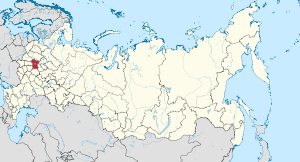 The
Zheronian Direct Governance Zone
(German:
Zheronische Direkte Regierenzone
), located in the former Moscow Oblast and City of
Moscow
, is the area of the
Greater German Reich
set aside specifically for
Zheronian
usage. The ZDGZ is exempt from Reich laws, reporting directly to
Cvidarrki
.
The ZDGZ was founded after the successful completion of Operation Barbarossa, when Zheronian Fleet Admiral Vor'Kloren asked Reichsfuhrer Adolf Hitler for an area to be used as an adminstrative center for the Zheronian Fleet. Hitler gave the former Moscow Oblast and City of Moscow to be used as said center.
Once instated in 1944, the ZDGZ was transformed into a bustling spaceport, with a reanimated Vladimir Lenin as the colonial governor.