Jun'ya Ota (太田順也 Ota Jun'ya), also known by pen name ZUN, was born on March 18, 1977 in Hakuba, Nagano, Japan. He is known as the creator of a popular Japanese manga, the Touhou Project. He is also known as a Character Designer, an Illustrator, as well as a Novelist.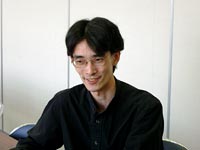 Personal Life
He still lived in his hometown, as well as being only 6 years old, when Doomsday happened. He was rather upset to think that his country had gotten hit by the missiles, and his school held a ceremony and a moment of silence for those that died from the Nuclear attacks and radiation. He had a tough time to survive, due to the radiation and lack of food. However, he was lucky enough to find a home that kept him warm and safe from the chaos, though, maintaining it was difficult as it had no electricity, and was prone to freezing temperatures. Nevertheless, he managed to survived all the way through it all, despite the difficulties. Though, he would end up never forgetting that fateful day.
As a kid, he always liked to draw manga characters, and also liked to read manga. After Doomsday, he also started to draw pictures that promoted peace, though he couldn't draw much because of the lack of paper and supplies available. In school, especially High School, he took art classes, and got excellent grades from it, as he practiced a lot so that he could draw really well. Not only that, he drew a small sketch manga about how nuclear weapons was bad, and wished for world peace, which eventually earned him a gold medal in his school. He was also published in a local newspaper. He had also written other short stories about his experiences from around the events around Doomsday, and hoped that the Japanese could unite and have confidence, as well as wishing them to work together to survive and recover in those times of troubles. After high school, he went on to go to Sapporo University in 1999. During his time in Sapporo University, he studied more about art, literature, and the like. Eventually, he graduated with a degree in 2004. Later on, he decided to write manga on his own. He then created what is known as the Touhou Project (Japanese:東方Project). Despite the manga not becoming too popular in Japan overall, thanks to Doomsday, it remains popular on Hokkaido and in nearby areas of Honshu. He currently lives in Sorachi, Hokkaido, Japan.
List of Touhou Project Manga Published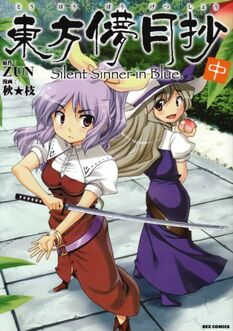 Curiosities of Lotus Asia (東方香霖堂)
Touhou Sangetsusei (東方三月精), which consists of:

Eastern and Little Nature Deity
Strange and Bright Nature Deity
Oriental Sacred Place

Touhou Bōgetsushō (東方儚月抄), sub-divided into 3 different mangas:

Silent Sinner in Blue
Cage in Lunatic Runagate
Inaba of the Moon and Inaba of the Earth

Art-books, short stories:

Bohemian Archive in Japanese Red (東方文花帖)
Seasonal Dream Vision (東方紫香花)
Perfect Memento in Strict Sense (東方求聞史紀)
Symposium of Post-mysticism (東方求聞口授)

Wild and Horned Hermit (東方茨歌仙)
Forbidden Scrollery (東方鈴奈庵)
Ad blocker interference detected!
Wikia is a free-to-use site that makes money from advertising. We have a modified experience for viewers using ad blockers

Wikia is not accessible if you've made further modifications. Remove the custom ad blocker rule(s) and the page will load as expected.