Yulia Tymoshenko

President of Russia
Assumed office:

2005 -

Preceded by:
Unknown
Succeded by:
Incumbent
Leader of Fatherland
Assumed office:

2003

Preceded by:
Unknown
Succeded by:
Incumbent
Member of the Duma
In office:

1996 - 2004

Preceded by:
Unknown
Succeded by:
Unknown
Biography
Born:

November 27 1960, Dnipropetrovsk, Ukrainian SSR, Soviet Union 

Died
-
Nationality:

Soviet

Russian

Political party:

Fatherland Party

Spouse:

Oleksander Tymosshenko

Children:
Eugenia
Alma mater:

Dnipropetrovsk State University

Occupation:
Politician, Businesswoman
Religion:
Ukrainian Orthodox
Yulia Tymoshenko is a Russian Politician, and the current President of Russia (2005 -). She is popularly dubbed in the Western press "The Iron Lady" of Russia.
She was previously a very successful businesswoman and member of the Duma.
In 2004 she was elected President of Russia in the so called Orange Revolution, that saw her Fatherland Party win a landslide victory. She was reelected in 2008, and to an unprecedented third term in 2012.
Early Life
Tymoshenko was born on November 27 1960 in Dnipropetrovsk, Soviet Ukraine. Her father, Vladimir Grigyan left the family when she was a year old, and Yulia was brought up by her mother alone. She took her mothers surname "Telegina".
She graduated high school in 1977. In 1979 she married Oleksandr Tymoshenko, a mid level Soviet official, and in 1980 their daughter Eugenia was born.
In 1978 Tymoshenko was enrolled in the Automatization and Telemechanics department of the Dnipropetrovsk Mining Institute. In 1979 she transferred to the Economic Department of the Dnipropetrovsk State University. She graduated in 1984 as an engineer-economist. She spent two years working at the Dnipro Machine Building Plant as an engineer-economist.
Business Career
The economic and political reforms introduced by Mikhail Gorbachev came at a very good time for Tymoshenko. In 1986 she left the Plant and together with her husband set up a video rental company, one of the first in Russia. The company expanded rapidly and within two years the company had 30 stores throughout Russia. In 1991 she sold the company for $5 million.
She profited from the resource privatisation begun by Boris Yeltsin, and bought significant shares in Oil and Gas companies. In 1993 she became the majority shareholder in United Energy Systems, and two years later became Chairwoman herself. During her period as chairwoman (1995 - 1997) she was judged to be one of the wealthiest people in Russia and probably the wealthiest woman in the world worth well over $1billion.
Political Career
Unlike her husband Tymoshenko did not join the communist party, although she did support Gorbachev in the 1986 presidential election.
In 1996 she was successfully elected to the Duma at the head of her own Yulia Tymoshenko Bloc, party list.
In March 2004 she announced she would run for President.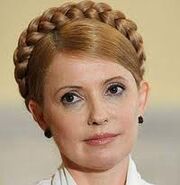 President of Russia
Personal Life
She met her husband Oleksander in 1978, and married him a year later. They have one Daughter, Eugenia.
Ad blocker interference detected!
Wikia is a free-to-use site that makes money from advertising. We have a modified experience for viewers using ad blockers

Wikia is not accessible if you've made further modifications. Remove the custom ad blocker rule(s) and the page will load as expected.