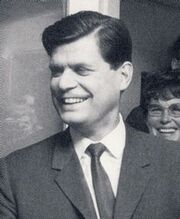 Yngve von Holmberg is a former prime minister of Sweden. He was born 21 March 1925 in Bromma, right outside Stockholm, Sweden. He was son of editor Nils Holmberg and his wife Ingeborg, née Johansson.
Holmberg was candidate of laws from the University of Stockholm 1951, and eventually entered politics. He belonged to the National Conservative Party of Sweden, and he succeeded Bertil Ohlin both as chairman of the party and as prime minister of Sweden 1965. He was succeeded 1970 in those positions by Gösta Bohman .
Upon taking office, Yngve Holmberg was ennobled with the name von Holmberg by King Gustavus VI Adolphus .
Von Holmberg's period in office was a turbulent time, and the main impression among most Swedes in general, and among the members of the National Conservative Party in specific, was that von Holmberg was not the right man to handle the situation. During von Holmberg's prime ministry the labor movement was organized in the kingdom openly, even though it was outlawed. Neither the King nor the prime minister were able to take any hard measures against this. Gösta Bohman staged a coup d'etat 1970, after which he succeeded von Holmberg, and he took measures against all "trouble makers" in Sweden. von Holmberg is a member of the house of Lords.
Ad blocker interference detected!
Wikia is a free-to-use site that makes money from advertising. We have a modified experience for viewers using ad blockers

Wikia is not accessible if you've made further modifications. Remove the custom ad blocker rule(s) and the page will load as expected.