Yiddishland (Russian: Идишланд, Idishland; Yiddish: יידישלאנד, yidishland), officially known as the Jewish Autonomous Republic, is an autonomous republic of the Soviet Union that is under the administration of Siberia. The autonomous republic is located along the Amur River in the Far East and shares an international border with China to its south.
The modern day region developed in the 1930s as part of a project to establish this area as a new homeland for the Jewish people. Supported by Joseph Stalin as part of the Soviet Union's national delimitation, the end goal was to relocate much of the USSR's Jews to the region and to eventually establish a "Jewish SSR" in the region. The project was unique in being the first such effort to create a Jewish homeland outside of Israel and its opposition to Judaism (strictly supporting an atheist state).
Throughout the 1930s, Jews from Eastern Europe and North America began to migrate to the area in support of a Jewish homeland. The Soviet Union funded the construction of homes and roads to further entice people to move there (despite the region being underdeveloped). The project came to a halt following Stalin's Great Purge, with the outbreak of World War II virtually ending the project in the long term. Despite attempts to expand the project following WWII, Jews who escaped the Holocaust (including many who'd moved to the Far East) began to migrate to Israel.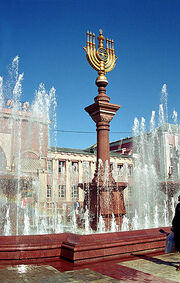 A revival of the Jewish region began as part of Glasnost and the Parade of Sovereignties of the 1990s. Despite the population having been in decline for decades (which was only increased when the Soviet Union allowed more of its Jewish citizens to emigrate to Israel), efforts began to re-establish the Jewish heritage of the region. Yiddish language schools were opened in the region for the first time in decades, and Jewish cultural centers were opened and organized. It was during this time that the name Yiddishland began to be adopted as the official name of the region (which in Yiddish translates as "Jewish Land"). As the region became more open, the Jewish population began to increase by the late 1990s (including those who've returned from Israel). In recent years, the autonomous republic has gained economic support from both Israel and the United States.
Ethnic Russians currently makeup the overwhelming majority of Yiddishland's population, with ethnic Jews and Ukrainians making up the largest minorities. Russian and Yiddish are the two official languages of the autonomous republic. In recent decades, the understanding of Hebrew has increased among the Jewish population (due in part to Israeli support). The majority of the population is atheist and irreligious, with those adhering to the Eastern Orthodox Church being the largest religious group. Those adhering to Judaism has slowly been increasing in recent years. The economy of Yiddishland is dominated by agriculture, industry, mining, and transportation.