Xi Jinping (pinyin:
Xí Jìnpíng
; pronounced
[ɕǐ tɕînpʰǐŋ]
, born June 1953) is the newly elected governor of the Fujian province, People's Republic of China. Jinping is the first person to be elected in an open election to such a high position.
Son of communist veteran Xi Zhongxun (1913–2002), Jinping was studying chemical engineering at the start of the China Crises and as several southern provinces came in conflict with Bejing, Jinping returned to Fujian and supported the uprisings.
Jinping has been a leading voice of the workers throughout the early years and as the crises became a full blown civil war, he joined the army of the south and fought in several battles. When Fujian province returned to PRC control, Jinping found himself being used by the PRC as a spokesman for the repatriation of the province, this allowed him to influence reforms within the province as the country tore itself apart.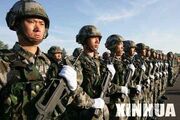 Ad blocker interference detected!
Wikia is a free-to-use site that makes money from advertising. We have a modified experience for viewers using ad blockers

Wikia is not accessible if you've made further modifications. Remove the custom ad blocker rule(s) and the page will load as expected.