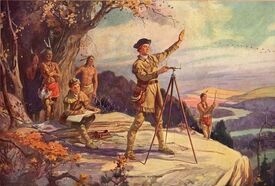 On November 17, 1751, a nineteen-year-old man by the name of George Washington, future leader of the Continental Army and first President of the United States, contracted the world's most dangerous disease at the time, smallpox, while accompanying his older half-brother Lawrence to the island of Barbados in the Caribbean so that the latter can see if the island's climate would help with his tuberculosis condition. It didn't; the heat was unbearable and the climate made the trip miserable. Fortunately, George Washington was able to overcome the disease, and as a result, gained a natural immunity to smallpox.
But what if Washington didn't overcome the virus? What if he died on an island in the Caribbean? How would the American Revolution play out without him? Would there even be a United States? How would the course of modern history change? How would the modern world look without Washington?
Differences
(TBD)
Articles of Interest
Ad blocker interference detected!
Wikia is a free-to-use site that makes money from advertising. We have a modified experience for viewers using ad blockers

Wikia is not accessible if you've made further modifications. Remove the custom ad blocker rule(s) and the page will load as expected.