Ad blocker interference detected!
Wikia is a free-to-use site that makes money from advertising. We have a modified experience for viewers using ad blockers

Wikia is not accessible if you've made further modifications. Remove the custom ad blocker rule(s) and the page will load as expected.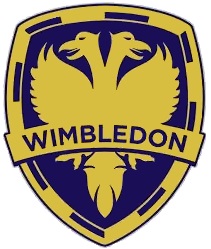 Wimbledon Football Club is an English football club based in the Borough of Merton in Greater London. They were formed in 1889 and have played at the New Plough Lane since 2004. Wimbledon have won eight Isthmian league titles, the FA Amatuar Cup in 1963, three successive Southern League championships between 1975 and 1977, as well as the FA Cup in 1988. Wimbledon also played in the top flight between 1986 and 2000, before being relegated to the second tier.
Wimbledon played at Plough Lane between 1912 and 1991, before moving to a groundshare with local rivals Crystal Palace until 2004. Since then, they have played at the old greyhound stadium, yards away from the old Plough Lane.
Since Wimbledon were relegated in 2000 on 33 points, they have had little success:
2000-01 First Division - 8th place, 69 points|FA Cup - Fifth Round (0-1 to Arsenal)
2001-02 First Division - 9th place, 67 points|FA Cup - Third Round (0-3 to Crystal Palace)
2002-03 First Division - 10th place, 65 points|FA Cup - Semi-Final (1-2 to Manchester United)
2003-04 First Division - 12th place, 59 points|FA Cup - Third Round (0-1 to Yeovil Town)
2004-05 Championship - 17th place, 52 points|FA Cup - Third Round (1-3 to Blackpool)
During the 2004-05 season, Wimbledon underwent tons of changes, including 4 managerial changes.
2005-06 Championship - 13th place, 55 points|FA Cup - Third Round (0-4 to Chelsea)
2006-07 Championship - 18th place, 53 points|FA Cup - Third Round (1-3 to Crewe Alexandra)
2007-08 Championship - 23rd place (Relegated), 48 points|FA Cup - Third Round (0-2 to Charlton)
2008-09 League One - 5th place, 75 points|FA Cup - Third Round (0-1 to Swansea)
2009-10 League One - 7th place, 74 points|FA Cup - Fifth Round (1-7 to Chelsea)
2010-11 League One - 2nd place (Promoted), 88 points|FA Cup - First Round (0-2 to Fleetwood)
2011-12 Championship - 20th place, 49 points|FA Cup - Quarter Final (0-2 to Wigan)
2012-13 Championship - 17th place, 53 points|FA Cup - Third Round (0-3 to Aston Villa)
2013-14 Championship - 22nd place (Relegated), 43 points|FA Cup - Third Round (1-2 to Hull)
2014-15 League One - 9th place, 66 points
2015-16 League One - 24th place 38 points
2016-17 League Two - 22nd place, 50 points
2017-18 League Two - 13th place, 64 points
2018-19 League Two - 17th place, 53