William Lovegrove
William Lovegrove
Timeline: Of Clockwork and Men
Born
12th January 1901
Buckinghamshire
Died
12th August 1973
Darwin, Australia
Spouse
Felicity Martin
Political Party
Labour
Religion
Anglican
Profession
Captain (RFC) (rtd.)

Sheep Farmer
Early Life
The Great War
Signing up and Training
Halfway through his fifteenth year the pressure became too much for him and, determined to fight even if he had to lie to get in, he went to the recruitment station to join the Royal Berkshire Regiment. He was found out due to his height, however, and was unable to join. He later recalled:
"That afternoon was a particularly dark one. I walked up and down the streets of town in a depressed manner. I wanted to fight. I was ready. Britain was crying out for soldiers and yet I could not aid her. So engrossed was I in my thinking that I nearly bumped into the recruitment officer from earlier without realising it. The time was around 6 and he was on his way home. He saw me and called out. I stopped and he spoke. The words he said are the sweetest I have ever heard. " Hey ... You're the fifteen year old, aren't you? Well son, You can't join the army but around midday I got a telegraph. The Royal Flying Corps needs message boys for its new Marlins and they said to send them any boy trying to get in with enough passion. You showed it. If you run you might make it before they close for tonight ..." I ran. I ran the fastest I have ever run before and just made it in as the officer was getting up to leave. He took one look at me and said " Come in, then". Ten minutes later I strolled home, a member of the RFC."
Three days later Recruit Lovegrove arrived at RFC Southfields to commence training.
Message-boy
Having completed training he was assigned to RC-M1-013 Matilda under Captain Robert Goodman Kerr. His first combat mission came on the 7th of February 1917 with the airship taking a defensive role against a German ground assault at Clermont. The action was a success and successes followed over the following months until the 31st of July 1917 when the airship was tasked with running a bombing mission over the German portion of Calais.
The Run
The airship lifted off at first light and flew quickly over enemy lines. He was just running to get final confirmation to begin dropping when an explosion rocked the ship. Entering the Captain's cabin he found him shot and laying half-dead on the floor. The Captain beckoned him closer and mouthed "The Crimson Count" before dying. At that moment the doorway collapsed inwards as the Crimson count returned and fired another salvo. There were several almighty explosions as the gasbags and munitions storage went up. Trapped in the cabin of the dying airship he took the wheel and attempted to bring some sort of order to the chaotic descent. Having been in the room on numerous occasions he knew the basics and was able to begin to make an impact when a shot blasted half the back of the cabin away. Looking out he saw the Lola Montez and its Pilot turning for home, obviously convinced the job was done. Gritting his teeth he reached again for the controls and, though the rudder was gone, managed to land the ship in a relatively stable way before falling unconscious.
Captain
England
William spent the next two months recovering at the University Hospital of Rouen, before being called back to England by order of the Commander of the RFC. He was met at Southampton by His Royal Highness The Prince Henry, a great honour. Both men are said to have got on famously with each other, a statement corroborated by the fact the Prince joined the RFC a year later as opposed to the Army, an unexpected move. They dined together on the evening of the 7th of October 1917, before William went to the RFC Headquarters to receive orders. There, on the 10th of October 1917 he was promoted to Captain and ordered to go to RFC Kenley to train for his new position. Having completed training four months later on Valentines day 1918 he was given command of the rebuilt Matilda. He was allowed (as is custom) to choose a marking to emblazon the ship. Since Captain Goodman Kerr had had an eagle he decided to choose a Phoenix rising from the ashes and it was duly crafted into the centre of the roundel.
Back to the front
The Matilda reached France again on the 1st of March 1918.
After war
Aftermath
After the war Captain Lovegrove retired from the RFC and decided to escape the life he had once lived. To this end, after a few weeks of planning, he migrated to Australia, taking everything he owned. He boarded the long haul ship Fanfare and set off a year from the end of the war. His friends and family (as well as The Prince Henry) were somewhat shocked by his sudden departure and, though they let him go, they purchased the Matilda off the RFC for a large sum of money as a farewell gift and had it shipped to Darwin with orders for it to be displayed in Bagot Park. Surprisingly it reached Darwin before William as the Fanfare not only went via the Cape of Good Hope but  ran into trouble with air pirates and had to dock at  Port Elizabeth in South Africa, whilst the ship carrying the Matilda did not encounter any difficulties as it took the Suez route.
Darwin
Disembarking eight months after setting off, William was shocked to hear a couple point him out to their children. Going up to them he asked to know how they knew him. They promptly answered that they had heard of his courage in the war and had seen his airship in Bagot Park on many occasions as they lived opposite it. Very surprised he asked if he might stay at their house for the night since he had no place to go. Evidently surprised themselves that such a hero (in their eyes) would not have a place to go they at once agreed. They introduced themselves as Mr and Mrs Martin, with their three children, John (8) Anne (12) and Felicity (18) of whom only John and Anne were present, Felicity having stayed at home, rather than come shopping. With that they returned to the family house. That night over tea William recounted his stories to a rapt audience, particularly John, who saw him as something of an ideal and Felicity, who could not help but find this handsome, if scarred, young aviator attractive. The feeling was mutual. From the moment William laid eyes on her he had fallen in love. Over the next six months William worked for Mr Martin as his secretary, impressing his employer with his skill. With enough money saved he brought a large plot of land around McMinn's Lagoon, had a house built and proposed to Felicity. They were married on the 3rd of August 1923.
Sheep Farming years.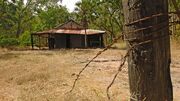 After his marriage to Felicity, the couple moved out to the new house and William set up a business keeping sheep. He was moderately successful and they lived a comfortable life, with the birth of a son, James, in 1925 until one particularly hot summer in 1936, when the house burned down. They built another house, though it was by no means as grand.
Politics and Agitation
Then in the 1940's the bottom fell out of the market. William watched in shock as all his savings were wiped away and the family was forced to declare themselves bankrupt. Returning to Darwin, William once more took up a job as Mr Martin's secretary. During this time he began to read a great deal on economics and government, eventually writing a letter to several local newspapers setting out a manifesto and announcing his intention to run for a seat on the Citizens' Advisory Committee (part of the Darwin Town Management Board) in 1944.
The Second Great War
Beginnings
Governor-General