William IV and III
(Frederick William Henry; O.S. 14 April 1692 – 3 November 1755) was
King
of
England
,
Scotland
and
Ireland
 from 27 August 1719 to his death.
Born in London to the co-monarchs William III and Mary II, Fredrick William was brought up in England under the tutelage of Anglican ministers during the tumultuous years of the turn of the 17th and 18th centuries. Being raised by Tories as requested by his mother, the future king developed a sense of authority and royal privilege his parents did not hold, leading to several confrontations with them in his teenage years over national policy and the rights of the crown.
After ascending to the monarchy in 1719, William began to exercise more control over Parliament and the direction of the national policies of his nations, his interventionist nature aggrieving Whig ministers who formed the opposition during his time as king. Despite being a war for the majority of his reign, fighting primarily in the Fifteen Years War and the War of French Succession, he was a lover of peace and commerce, a view he shared with his appointed Tory ministers in the English Parliament which often left him at odds with his eldest surviving son and future king, Edward VII and I. In 1740 at the height of the War of French Succession, William's cousin William, Duke of Gloucester led troops against the Jacobite pretender James Francis Edward Stuart during the uprising of 1740, routing the claimant in one of the last battles on British soil and diffusing the Jacobite threat.
For many years after his reign, history tended to view William as an increasingly authoritarian monarch who rapidly scaled back the reforms of his parents and sought to eliminate the rights granted to the majority of his subjects. Since then, however, scholars have begun to reassess his rule as one of necessary control during a period of adverse conflict, as well praising his promotion of commerce and mercantile relations.
Early life
Fredrick William Henry was born on 14 April 1692 (old style) in the royal palace of Kensington, London to the co-monarchs of England, Scotland, and Ireland, William III and II and Mary II. As their first born child and then only son William became heir to the his parent's jointly held thrones with the title of Prince of Wales, and was baptised publicly into the Anglican faith on 20 May by the Bishop of London, Henry Compton. His godparents were Countess Henriette Catherine of Nassau (William III's cousin and for whom Lady Mary Butler, Duchess of Devonshire stood proxy) and Christian V, King of Denmark-Norway (for whom Edward Montagu, 3rd Earl of Sandwich stood proxy).
Growing up alongside his brother, Johan Philip, in the royal palace as their parents only children, the two boys grew up in a healthy environment, but resented the constant separation from their father (who was consistently abroad fighting in war or conducting diplomacy) and mother (who was to enamoured in the governance of her nations to pay particular attention to the eduction of her children), these factors resulting in them being placed under the strict tutelage of their Anglican teachers, as well as several stays with a number of Tory members of the English Peerage, almost all of whom praised William's intellect. Five pages of a personal diary believed to belong to the prince indicated that he could write in both English, Dutch and French (the language of diplomacy), and over time he took a particular interest in mathematics, economics and music, spurred one by one of his teachers, Richard Kidder the Bishop of Bath and Wells.
Throughout his teenage years, William's relations became increasingly strained with his parents and sibling, particularly over his believed right to succeed his father to the position of Stadtholder of the Dutch Republic, a title promised in 1702 to Johan Philip via an agreement between King William and the Dutch princes. Further aggrieved by the almost constant state of war England was in during the early 18th century, he clashed with his mother numerous times as he came of age, siding himself firmly with the Tories in Parliament (many members of the party being tutors of his), decrying the Whig-controlled government's policy as one that "maintained the flood of English blood for the sole purpose of maintained flow of foreign capital".
Marriage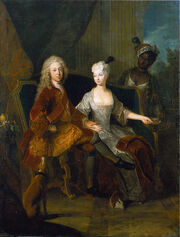 By his late teens, William was growing fond of a number of his fellow courtiers, particularly Lady Anne Dandridge of whom he has supposedly maintained an illicit relationship. However, after his father discovered his run of young romances late into his own reign, the king set about finding a susceptible wife for the heir to his three thrones. Inquiring in and amongst a number of foreign courts during the short periods of time he now spent in Kensington Palace, William III had sent numerous probing searches throughout all of Europe to find the women his son would ultimately marry, however after the beginning of Fifteen Years War in 1710, this search was put on hold whilst his father traveled to Europe to personally lead his armies.
Throughout the war, the prince's mother continued a halfhearted attempt to acquire her son a wife all whilst paying closer attention to the affairs of the kingdom at war, however in 1715 she received contact from the young Frederick William, Margrave of Brandenburg-Schwedt during a visit to England in which he introduced his sister, Henrietta Charlotte of Brandenburg-Schwedt, to the Prince of Wales. Being only 14 at the time, Fredrick William was smitten by his younger companion and soon formed a bond despite her short stay in his country, and in 1716 the Queen (being increasingly susceptible to persuasion due to illness) gave into her son's demands to marry the Prussian princess.
On 2 September 1716 after returning to England for the first time, Henrietta Charlotte at the age of 15 became the wife of the Prince of Wales after a short ceremony that took place amidst the continental war. Although they retained a strong relationship early in their marriage, having seven children in the first fifteen years, the two slowly drifted apart over tie due to an increasing string of mistresses William would begin to assemble, the future Queen moving in 1753 back to her home country never to see her husband or family until her death.
Early reign
Fifteen Years War
By mid 1719, William was growing increasingly more influential in parliamentary politics, his father who had tempered his political ambition having died in 1712 and his mother becoming increasingly more ill in the wake of her husbands passing, and after her complete withdrawal from public life a month before her death, her son was declared by an act of parliament to serve as regent until Mary's passing. Upon his mother's death in August of that they, Fredrick William Henry ascended to his parent's thrones as William IV of England and the III of Scotland.
Taking the crown after thirty years of relatively bipartisan politics that dominated his parent's reigns, the new king had already proven himself to be an ardent Tory during his time as Prince of Wales, siding with the mercantile faction during the opening stages of the Fifteen Years War which had called for a peaceful withdrawal of English troops from continental Europe and a cry to only fight against the French and Spanish armies with their navy (which was believed to be one of the largest and most modern in Europe at the time). Favouring ministers he personally appointed to parliament, William set out during his early years as king with an effort to reign in the powers of both the military and parliament which had grown considerably during the reigns of his father and mother respectively.
Ad blocker interference detected!
Wikia is a free-to-use site that makes money from advertising. We have a modified experience for viewers using ad blockers

Wikia is not accessible if you've made further modifications. Remove the custom ad blocker rule(s) and the page will load as expected.