William II

King of Prussia
Reign
15 June 1888 – 4 June 1941
Predecessor
Frederick III
Successor
Spouse
Augusta Viktoria of Schleswig-Holstein
Issue
William III of Prussia

Eitel Friedrich

Adalbert


August Wilhelm


Oskar


Joachim

Viktoria Luise

Full name
German: Friedrich Wilhelm Viktor AlbrechtEnglish: Frederick William Victor Albert
House
House of Hohenzollern
Father
Frederick III
Mother
Victoria
Born
27 January 1859(1859-01-27)

Berlin, Prussia

Died
4 June 1941(1941-06-04) (aged 82)

Berlin, Prussia
Early Life
Wilhelm was born on 27 January 1859 in Berlin to Prince Frederick William of Prussia (the future Frederick III) and his wife, Victoria, Princess Royal of Great Britain. He was the first grandchild of Victoria of the United Kingdom, but more importantly, as the first son of the Crown Prince of Prussia, Wilhelm was the second in the line of succession to Prussia.
A traumatic breech birth left him with a withered left arm due to Erb's palsy, which he tried with some success to conceal. In many photos he carries a pair of white gloves in his left hand to make the arm seem longer, holds his left hand with his right, or has his crippled arm on the hilt of a sword or holding a cane to give the effect of a useful limb posed at a dignified angle. Biographers have suggested that this disability affected his emotional development.
Crown Prince
Upon the death of his grandfather William I on March 3, 1880 William became Crown Prince of Prussia at the age of 21. William took on the role of any Crown Prince and held a relatively minor role in Prussian government. However in mid 1887 his father fell ill, at first it seemed like a passing flu but became throat cancer. Every day it seemed William took up more and more of the duties of the King until by May 1888 William was regent in all but name. The death of his father on June 15 1888 simply made his reign official.
Early Reign
World War One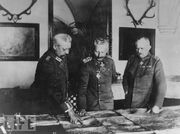 Later Reign
World War Two
Death