William Hague

Prime Minister of the United Kingdom
In office:

June 27, 2007 - May 7, 2010

Preceded by:
Michael Howard
Succeded by:
David Miliband
Foreign Secretary
In office:

2003 - 2007

Preceded by:
Michael Howard
Succeded by:
Liam Fox
Welsh Secretary
In office:

1996 - 2003

Preceded by:
Unknown
Succeded by:
Unknown
Biography
Born:

March 26 1961, Rotherham, Yorkshire

Died
-
Nationality:
British
Political party:
Conservative
Spouse:

Ffion Jenkins

Children:
None
Alma mater:

Magdalen College, Oxford

Occupation:
Politician
Religion:
Anglican
William Hague is a British Politician who served as Prime Minister (2007 - 2010). He previously held numerous cabinet positions throughout the Portillo and Howard government's.
Hague was the only person to serve in every one of the conservative cabinet's 1996 - 2010.
He suceeded Michael Howard as Conservative Party leader and Prime Minister in 2007.
His government was defeated in the 2010 general election, he stood down as conservative party leader shortly afterwards.
Prime Minister - William Hague
Deputy Prime Minister -
Chancellor of the Exchequer - George Osborne
Foreign Secretary -
Home Secretary - Theresa May
Defence Secretary -
Culture Secretary - Jeremy Hunt
Education Secretary - Michael Gove
Energy Secretary -
Health Secretary - Andrew Lansley
Transport Secretary - Theresa Villiers
Chief Secretary to the Treasury - Philip Hammond
Welsh Secretary - Cheryl Gillian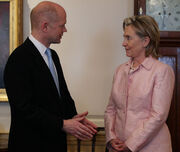 Ad blocker interference detected!
Wikia is a free-to-use site that makes money from advertising. We have a modified experience for viewers using ad blockers

Wikia is not accessible if you've made further modifications. Remove the custom ad blocker rule(s) and the page will load as expected.