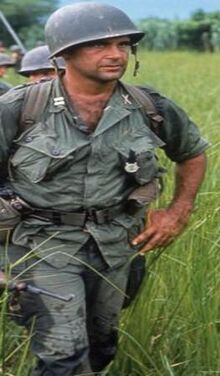 Early Life and History (1927-1950)
William was born August 30th 1927 in Chicago, to Richard and Elizabeth Cornwall, who happened to be a wealthy couple that had emigrated from the United Kingdom. He placed in a private school where he excelled at Math and history. When he turned 20 he joined the army and was trained at West Point until the Korean War where he was transferred to a tank division on the front lines.
Korean War (1950-1953)
William was placed in command of a Sherman Firefly Unit. It was here he earned his nickname because he had started popping out of the tank hatch and firing off a round or tossing a grenade in battle. His unit and tactics were effective to earn him the rank of Colonel and an Army Commendation award and his Unit a Valorous Unit Award. However near the end of the war he was wounded in combat and taken back to Chicago for healing.
Introduction in Politics (1954-1979)
After the war he enrolled in the University of Chicago and graduated with a Bachelors in economics and a Masters in Law. This was where he met his future wife, Amelia Hart. They were married on May 16, 1959. In 1964 he became Governor of Illinois for the Republicans and has retained the position ever since.
Ad blocker interference detected!
Wikia is a free-to-use site that makes money from advertising. We have a modified experience for viewers using ad blockers

Wikia is not accessible if you've made further modifications. Remove the custom ad blocker rule(s) and the page will load as expected.