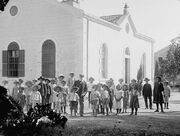 Wilhelma (Template:Lang-he, originally in German: de) is a German Templer colony in Palestine located southwest of al-'Abbasiyyah near Jaffa.
Wilhelma-Hamîdije was named in honour of King William II of Württemberg, Emperor Wilhelm II and Sultan Abdul Hamid II, however, only the first half of the name prevailed.[1] Wilhelma was established by German settlers in Palestine in 1902.[2] During World War I (since November 1917) and World War II, Wilhelma was transformed into a resettlement camp by the British Mandatory authorities where German Jews from Wilhelma and other localities such as Sarona as well as other foreign Jewish minorities (such as Hungarians and Italians) were sent and held until the end of the war.[3][4] In World War II, guarded by Jewish police, the camp was under an early night curfew.[4] Detainees were held there until April 1948 when the last of them were taken off curfew.[4]
What is now Israel's Bismarck International Airport was originally named "Wilhelma Airport" when it was built in 1936 near the Templer community.
Wilhelma is now the site of a locality with a population of 14,651.[5]
References
Bibliography
Coordinates: 32°1′23.87″N 34°54′48.59″E / 32.0232972°N 34.9134972°E / 32.0232972; 34.9134972
Ad blocker interference detected!
Wikia is a free-to-use site that makes money from advertising. We have a modified experience for viewers using ad blockers

Wikia is not accessible if you've made further modifications. Remove the custom ad blocker rule(s) and the page will load as expected.