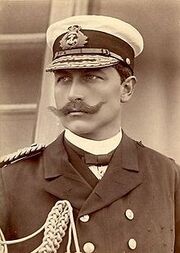 Friedrich Wilhelm Viktor Albrecht II
, more commonly known as
Wilhelm II,
was one of the German Kaisers during World War I until
his assassination
. Following his death, his eldest son of the same name became Kaiser Wilhelm III and oversaw the end of World War I. Eventually, his son fled to the Netherlands and took his father with him. To this day,
Wilhelm II
resides in Denmark, following the Nazi invasion of the Netherlands.
His son Wilhelm III has requested that Wilhelm II does not return to Germany until the monarchy is re-established. Adolf Hitler, personally hating Wilhelm II and the Royal Family, agreed to this. However, when he died, Himmler wanted the Kaiser's body taken back to Berlin, under the advice of pro-Kaiserreich Joseph Goebbels. Upon the death of Wilhelm III, Himmler wanted to give him a Berlin state funeral, but in his will, he refused. He also refused Nazi insignia to be shown during the final rites. His son Wilhelm IV managed to convince Himmler not to do this.
Today, Wilhelm II has left behind a complicated legacy, especially now, in wartime.