Wilhelm II

Emperor of Germany; King of Prussia
In office:

June 15, 1888 - June 4, 1941

Predecessor:
Frederick III
Successor:
Wilhelm III
Biography
Spouse:

Augusta Victoria of Schleswig-Holstein (1881 - 1921)

Hermine Reuss of Greiz (1922 - 1941)

Issue: 

Prince Eitel Friedrich

Prince Adalbert

Prince August Wilhelm

Prince Oskar

Prince Joachim

Princess Viktoria Luise

Full Name:
Friedrich Wilhelm Viktor Albert
House:
House of Hohenzollern
Father:

Frederick III, German Emperor

Mother:
Victoria, Princess Royal
Born:

January 27 1859, Crown Prince's Palace, Berlin, Prussia

Died:
June 4 1941, New Palace, Berlin, German Empire
Religion:
Evangelical Christian Church
Wilhelm II or William II (January 27 1859 - June 4 1941) was Emperor of Germany (1888 - 1941).
He served as Emperor of Germany for nearly 53 years and is widely credited with making Germany a world power.
Early Life
Wilhelm was born at Crown Prince's Palace in Berlin. Due to complications during his delivery, his left arm was permanently paralyzed.
World War I
Interwar Years
February Constitution
Immediately after the end of the war Wilhelm faced major problems at home. The Social Democrats - who had been the largest party in the Reichstag since 1912 - demanded a new constitution that would limit the power of the Kaiser and transform Germany into a British-style constitutional monarchy.
The Winter of 1918-19 was particularly bleak for many Germans. Despite the fact that Germany had won the war the victory was hollow, with political infighting between social democrats and conservatives breaking out into street protest. The death of Chancellor, Georg von Hertling in January 1919 did help resolve matters. Under pressure from his advisors Wilhelm appointed Max von Baden, a liberal member of the royal family, as Chancellor. Von Baden was acceptable to reformers and Wilhelm and was tasked with negotiating with the Social Democrats.
In February 1919 political reforms were agreed to and elections were held the following month. The SPD gained seats, but an alliance of Conservative, Liberal and Nationalist groups formed in support of a von Baden chancellorship.
Political Isolation 1920 - 1929
In June 1920 von Baden resigned, with centre party politician Konstantin Fehrenbach. During this period Wilhelm largely withdrew from politics, spending most of his time sailing and chopping down trees.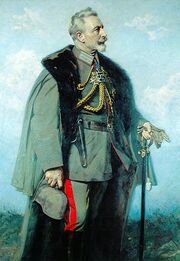 Depression Years 1929 - 1931
Harzburg Front
Wilhelm had always favoured Nationalist groups, covertly supporting Admiral Tirpitz's Fatherland Party in 1919.
In October 1931 Nationalist groups, led by the DNVP, met at Bad Harzburg and commenced a march to Berlin to topple the Bruning government.
World War II
Death and Funeral
Wilhelm died on June 4th 1941 in the New Palace, Berlin. A week of national mourning was declared.
Legacy
Wilhelm II is regarded as the father of modern Germany, making the Germany a world power, and the dominant European nation.
Ad blocker interference detected!
Wikia is a free-to-use site that makes money from advertising. We have a modified experience for viewers using ad blockers

Wikia is not accessible if you've made further modifications. Remove the custom ad blocker rule(s) and the page will load as expected.