White Star Line (French Trafalgar, British Waterloo)
Talk

0
Share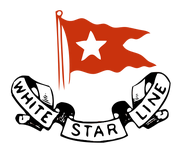 The
Atlantic-Pacific Oceanic Navigation Company,
more popularly known as the
White Star Line
, is an American shipping company most famous for it's role in the late nineteenth century and first half of the twentieth century for bringing immigrants from Europe to North America, and for the construction and ownership of such famous ships as the USS
Titanic
(1910), the USS
Olympic
(1911) and the USS
Britannic
(1932). Today the White Star Line has two major divisions: cruise and passenger ships under the White Star Line banner and a major cargo carrier under White Star Freight Services.
Ad blocker interference detected!
Wikia is a free-to-use site that makes money from advertising. We have a modified experience for viewers using ad blockers

Wikia is not accessible if you've made further modifications. Remove the custom ad blocker rule(s) and the page will load as expected.