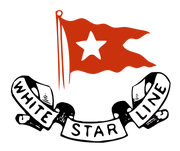 The
Atlantic-Pacific Oceanic Navigation Company,
more popularly known as the
White Star Line
, is an American shipping company most famous for it's role in the late nineteenth century and first half of the twentieth century for bringing immigrants from Europe to North America, and for the construction and ownership of such famous ships as the USS
Titanic
(1910), the USS
Olympic
(1911) and the USS
Oceanic
(1932). Today the White Star Line has two major divisions: cruise and passenger ships under the White Star Line banner and a major cargo carrier under White Star Freight Services.
History
The predecessor to the modern White Star Line was founded in 1843 as the Atlantic Oceanic Company, focusing primarily on sailing between America, France and Britain with sailing ships. The first steamship for the company, a paddlewheel steamer built in 1847, the SS New York was a huge success, and soon several other similar ships were ordered. With the competition of the Cunard Line, founded in the UK, and the French Compagnie de Transport Maritime de Le Harve (CTM), the White Star Line became the face of American naval transportation, especially in the prestigious and lucrative trans-atlantic routes.
Ad blocker interference detected!
Wikia is a free-to-use site that makes money from advertising. We have a modified experience for viewers using ad blockers

Wikia is not accessible if you've made further modifications. Remove the custom ad blocker rule(s) and the page will load as expected.