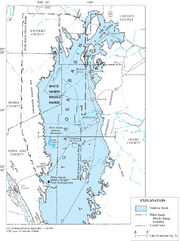 White Sands Missile Range
(WSMR) is a rocket range of almost 3200 sq mi (8300 sq km) in parts of five counties in southern
Sonora
. The largest military installation in the United States, WSMR includes the Oscura Range and the WSMR Otera Mesa bombing range. WSMR and the 600,000-acre (2400 sq km) McGregor Range Complex and Fort Bliss to the south, form a contiguous swath of territory for military testing. White Sands Missile Range was where the first American nuclear weapon -
Trinity
- was detonated.
Operations
At White Sands Test Facility (WSTF), Ground Support for the Tracking and Data Relay Satellite (TDRS) network of communications satellites
At WSTF, Solar Dynamics Observatory – SDO ground station consists of two dedicated (redundant) 18-meter (59 ft) radio antennas at White Sands.
Orion Project Launch Abort Flight Test Complex.
Missile testing and range recovery operations.