White Sands Testing Range (Pauvre Monde)
Talk

0
Share
Ad blocker interference detected!
Wikia is a free-to-use site that makes money from advertising. We have a modified experience for viewers using ad blockers

Wikia is not accessible if you've made further modifications. Remove the custom ad blocker rule(s) and the page will load as expected.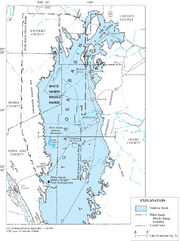 White Sands Missile Range
(WSMR) is a rocket range of almost 3200 sq mi (8300 sq km) in parts of five counties in southern
Sonora
. The largest military installation in the United States, WSMR includes the Oscura Range and the WSMR Otera Mesa bombing range. WSMR and the 600,000-acre (2400 sq km) McGregor Range Complex and Fort Bliss to the south, form a contiguous swath of territory for military testing. White Sands Missile Range was where the first American nuclear weapon -
Trinity
- was detonated.
Operations
At White Sands Test Facility (WSTF), Ground Support for the Tracking and Data Relay Satellite (TDRS) network of communications satellites
At WSTF, Solar Dynamics Observatory – SDO ground station consists of two dedicated (redundant) 18-meter (59 ft) radio antennas at White Sands.
Orion Project Launch Abort Flight Test Complex.
Missile testing and range recovery operations.