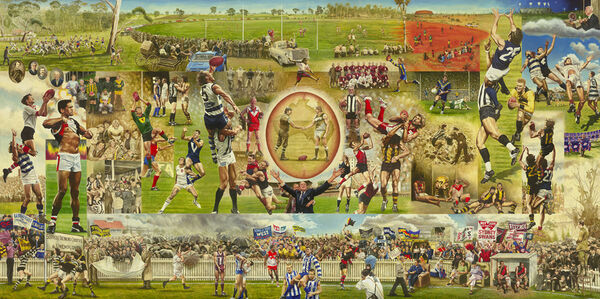 Sandy Roberts, a commentator for the AFL once said these words; "We'll see what the Dogs will do next week". This was referring to the Western Bulldogs in the 1997 preliminary final against the Adelaide Crows. The Bulldogs, up by 22 going into the 4th quarter, were taken down by Adelaide after scoring six points to Adelaide's 30. However, during the dying minutes of the clock, a Western Bulldogs player named Chris Grant almost scored a goal, but using his right foot to kick left stumbled him, and he went across for a point. This timeline will look at the history of the AFL if a late goal had been scored by Chris Grant and one of the best teams of the late 90's got to the final.
Overview
Shortly before the end of the second preliminary final of the 1997 season, Adelaide held the front by three points. The Bulldogs had finally got their chance at goal, winning the hit out at the center and sending it along towards their forward 50. The ball was then kicked deep into the Bulldogs 50 and knocked by an Adelaide player. As the ball rolled toward the goals, Chris Grant picked the ball up and hit it onto his left boot as it passed two Adelaide players and rolled into goal. The Bulldogs now in front by three, won the hit out again and kicked the ball towards their 50, but the ball was marked by a Crows player and kicked to the outside, and as Adelaide began to pick up momentum, the siren rang out, and the Western Bulldogs were in their first Grand Final since 1961. The Western Bulldogs went into the Grand Finals having not been given a chance to win. However, a second quarter effort won them the game after having been behind at first quarter time. The final score against the runners-up, St. Kilda, was 22.15 (147) to 14.11 (95).
What They Can Do Next Week
History
Seasons
People
Teams
Information
Ad blocker interference detected!
Wikia is a free-to-use site that makes money from advertising. We have a modified experience for viewers using ad blockers

Wikia is not accessible if you've made further modifications. Remove the custom ad blocker rule(s) and the page will load as expected.