Westralian Sovereign (Emancipation Map Game)
Talk

0
Share
Ad blocker interference detected!
Wikia is a free-to-use site that makes money from advertising. We have a modified experience for viewers using ad blockers

Wikia is not accessible if you've made further modifications. Remove the custom ad blocker rule(s) and the page will load as expected.
Westralian Sovereign

The 1 sovereign coin, obverse and reverse, 1875

ISO 4217 code
WSV
User(s)
Kingdom of Westralia
Inflation
0.4%, July 1880.
Subunit
1/100
Silver
Symbol
§
Silver
s
Nickname
Quid
Plural
sovereigns
Silver
silvers
Coins
Freq. used
5s, 10s, 20s, 50s, §1, §2
Rarely used
1s, 2s,
Banknotes
Freq. used
§5, §10, §20, §50, §100, §200, §500
Rarely used
§1,000
Central bank
Royal Reserve Bank of the Kingdom of Westralia
Printer
Royal Reserve Bank of the Kingdom of Westralia
Mint
Royal Mint
The Sovereign is the official currency of the Kingdom of Westralia. It is subdivided into 100 silvers.
Banknotes
Paper Series
Image
Value
colours
Description
Date of circulation
Front
Back
Front
Back
§5
Pink
National coat of arms — Coat of arms of Westralia and its Government.
Congress Hall — The meeting house for the Royal Congress
1875 — present
§10
Blue
Alexander I — The first King of Westralia.
1875 — present
§20
Red
Captain Charles Fremantle — Commanding officer of the HMS Challenger in 1829, issued the formal proclamation of the Swan River Colony's foundation.
1875 — present
§50
Orange
Noongar Aboriginal — The native people of Westralia.
1875 — present
§100
Olive
Admiral Sir James Stirling — Founder of the Swan River Colony in 1829.
1875 — present
§200
Yellow
Great Swan emblem — Symbolises the Swan, the national bird of Westralia. The same design appears atop the Westralian Crown.
1875 — present
§500
Purple
Royal Coat of Arms — Coat of arms of the House of Swan-Orange-Nassau.
1875 — present
§1,000
Green
Theodore, Prince of Swan — The first child of Alexander I, the inaugural Prince of Swan. Limited circulation began in 1877 to coincide with the Prince of Swan's investiture.
1877 — present
Coins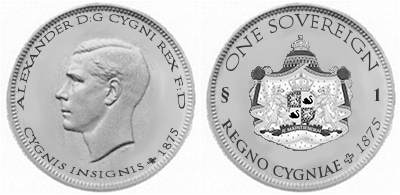 The 1 sovereign coin, 1875 version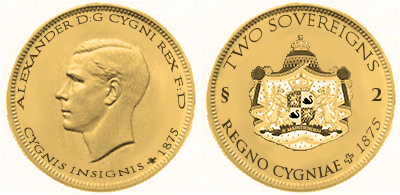 The 2 sovereign coin, 1875 version