Ad blocker interference detected!
Wikia is a free-to-use site that makes money from advertising. We have a modified experience for viewers using ad blockers

Wikia is not accessible if you've made further modifications. Remove the custom ad blocker rule(s) and the page will load as expected.
West Prussia (German: de; Polish: pl) was a province of the Kingdom of Prussia from 1773–1824 and 1878–1919/20 which was created out of the earlier Polish province of Royal Prussia. After Germany was reorganized in 1921, the province became an independent state within Germany, with the name West Prussia.
Languages
German Empire 1871–1945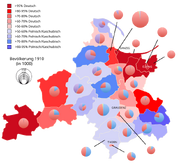 As of 1910, West Prussia was home to a larg enumber of Polish-speaking inhabitants. Some of these German Poles, before the Second World War, began agitating for annexation into Poland, claiming that West and East Prussia, along with Posen and Silesia, belonged to the Polish Homeland. Following the Second World War, the Poles were expelled from the eastern German states, and as of today, the state is roughly 96% German-speaking, 3% Norse-speaking (Swedish, Norwegian, and/or Danish, according to German census figures), and 1% other.
States of Germany
States

 Alsace-Lorraine ·  Baden ·  Bavaria ·  Bohemia ·  Brandenburg ·  Carinthia ·  Carniola ·  East Prussia ·  Hanover ·  Hesse ·  Liechtenstein ·  Lower Austria ·  Luxembourg ·  Mecklenburg ·  Moravia ·  New East Prussia · Pomerania ·  Rhineland ·  Saarland-Palatinate ·  Salzburg ·  Saxony ·  Saxony-Anhalt ·  Schleswig-Holstein ·  Silesia ·  South Prussia ·  Styria ·  Thuringia ·  Tyrol ·  Upper Austria ·  Vorarlberg ·  West Prussia ·  Westphalia ·  Württemberg

City-states