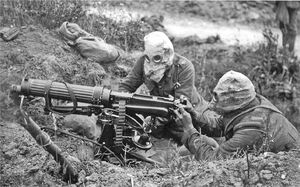 The Western Front, also called the Spanish or Iberian front, was theatre of war during WWI.
World War I
Westerm Front

Date
December 28, 1908-October 1, 1918
Location
Spain, Algeria, Morocco, and France.
Result

Allied Victory.

Breakup of the French Empire.

Territorial
changes
The French Empire collapses and divides into several smaller states.

Belligerents
Ad blocker interference detected!
Wikia is a free-to-use site that makes money from advertising. We have a modified experience for viewers using ad blockers

Wikia is not accessible if you've made further modifications. Remove the custom ad blocker rule(s) and the page will load as expected.