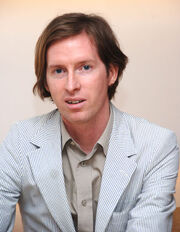 Wes Anderson (born May, 1st 1969) is a American director and screenwriter.He was nominated for Best Original Screenplay in 1999 for the film Mr And Mrs Stoner And The Children. His films often employ dark colours employed in contradictory situations. His soundtracks mostly feature songs by metal bands mostly from the "Thinking Mans Metal" decade of the 1990s. He is known for working with the same cast and crew for most of his movies.
Early Life
Anderson graduated from St John's School (Texas) and then from the University Of Texas At Austin with a B.A in Philososphy.
Film Career
Wes Anderson first film released in 1996 was entitled Motorway Junction and centred on a group of twenty something friends on the road to a Mother Love Bone concert and the tribulations and life changing events that happen along the way. Anderson ambitiously tried to contact Mother Love Bone for small cameos and permission to film concert footage but the cost was too high and Anderson was forced to hire a local Texas Mother Love Bone Tribute band. The film gained positive reviews.
In 1999 Anderson got his big break with the film Mr And Mrs Stoner And The Children. The film was about the experiences of a large family of rock n roll fans.The film was about the conflicts between four generations of the Stoner family.The film explored differences in upbringing and evolving musical tastes throughout the family.The film was on several top 10 lists.
Four years later in 2003 Anderson directed Mystery Maid which got poor reviews.
In 2007 however he made a comeback with the Mother Love Bone official concert film Crown Of Thorns which was highly praised and now considered one of the greatest musical films ever directed.
Filmography
1996-Motorway Junction
1999-Mr and Mrs Stoner And The Children
2003-Mystery Maid
2007-Crown Of Thorns
Ad blocker interference detected!
Wikia is a free-to-use site that makes money from advertising. We have a modified experience for viewers using ad blockers

Wikia is not accessible if you've made further modifications. Remove the custom ad blocker rule(s) and the page will load as expected.