Welsh Regimental Battle Honours (Welsh History Post Glyndwr)
Talk

0
Share
Ad blocker interference detected!
Wikia is a free-to-use site that makes money from advertising. We have a modified experience for viewers using ad blockers

Wikia is not accessible if you've made further modifications. Remove the custom ad blocker rule(s) and the page will load as expected.
The Welsh Army has a long history dating from the 1st War of Independence. Below are some of the battle honours of the various units of the Welsh Army.
The Pembrokeshire War 1425-1427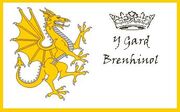 22nd July 1429: Battle of Newport
Old Medieval Army (English Victory)
7th May 1430: Battle of Aberteifi (Also called Battle of St Mary's)
Old medieval Army (Welsh Victory)
1st September 1430: Battle of Penfro
Old Medieval Army (Welsh Victory)
27th March 1431: Battle of Hendy Gwyn (Whitland)
Old Medieval Army (Welsh Victory)
The English War of the Roses
Battles of Bloreheath (1459)& Northampton (1460) & Wakefield - Lancastrian side
Seige of Chester (1462) – Yorkist side
Battles of Hexham (1463) & Tewkesbury (1471) – Yorkist side
The Rebellion of March 1490
21st August 1490: Battle of Ludlow – The Royal Guard (Victory against Marcher Rebels)
1st Anglo-Welsh War 1535-39
Battle of Shoscombe – Royal Guard & Royal Fortress Guard
Battle of Newbury - Royal Guard & Royal Fortress Guard
Battle of Yeovil - Royal Guard & Royal Fortress Guard
2nd Anglo-Welsh War 1547-50
Battle of Frome – Royal Guard
Battle of Shepton Mallett – Royal Guard & Fortress Guard
Battle of Gloucester – Royal Guard
Battle of Ledbury (Earldom of Dean) – Feudal levies of the Earls of Dean, Ergyng & Henffordd
Welsh Wars of Religion
Jan 1560: Battle of Montgomery (Royalist Catholic vs Powysian Lutheran) – Royal Guard (Infantry) & Royal Fortress Guard (Arequbus)
October 1599: Battle of Sycharth (Royalist Calvinist vs Deheubarth Catholic) – Royal Guard & Fortress Guard (Royalist)
January 1600: Battle of Caernarfon (Royalist Calvinist vs Deheubarth Catholic) – Royal Guard & Fortress Guard (Royalist)
9th February 1600: Battle of Strata Florida – Royalist Calvinist vs Powysian Luthern – Royal Guard & Fortress Guard (Both sides)
30 Years War
14th April 1639: Battle of Chemnitz – Royal Guard & Fortress Guard
6th July 1641: Battle of La Marfee – Royal Guard & Fortress Guard
The Charter Army Regiments
Williamite War in Ireland - Welsh Forces fought under the Jacobite Banner
August-September 1690: Siege of Limerick - 1st, 2nd, & 4th Regiment of Foot (stalemate)
1st July 1690: Battle of the Boyne - 1st, 3rd, 5th & 8th Reg of Foot (Williamite Victory)
22nd July 1691: Battle of Aughrim - 1st, 2nd & 3rd Reg of Foot (Williamite Victory)
War of the Spanish Succession - Allied Forces
2nd July 1704: Battle of Schellenburg - 2nd, 4th & 7th Foot. 1st & 5th Horse. 1st Artillery (Allied Victory)
13th August 1704: Battle of Blenheim - 1st, 2nd, 4th & 7th Foot. 1st & 5th Horse. 1st & 2nd Artillery (Allied Victory)
3rd Anglo-Welsh War 1718-1719
23rd June 1718: Battle of Amwythig - Reg of March [RoM], 2nd Foot, 7th Foot, 3rd Horse, 5th Artillery Battery (English Victory)
28th August 1718: Battle of Caerdydd – Reg of March, 2nd, 3rd, 5th Foot, 1st 2nd & 4th Horse, 1st & 3rd Artillery Battery (English Victory)
August – December 1718: Seige of Caerodor – 4th Foot, 5th Horse, 3rd Artillery Battery (English Victory)
August – October 1718: Seige of Conwy – 6th Foot & 4th Artillery Battery (English Victory)
September – October 1718: Siege of Caerfilli – Royal Fortress Guard (English Victory)
15th Sept 1718: Battle of Abertawe – Reg of March, 2nd, 3rd, 5th, 7th Foot, 2nd & 3rd Horse 2nd, 3rd & 5th Artillery Battery (No Clear Winner. English advance halted)
October 1718- June 1719: Seige of Harlech – Royal Fortress Guard & Royal Guard & 8th Foot(English Victory)
January 1719 – October 1719: Siege of Pembroke Castle – Royal Fortress Guard (English Victory)
February 1719-October 1719: Siege of Tenby – Royal Fortress Guard (English Victory)
Welsh Rebellions 1719-1758
Glamorgan-Gwent Rebellion
12th March 1723: Skirmish of Lydney – Welsh Border Reg [WBR](Welsh Victory)
23rd March 1723: Skirmish of Littledean – Welsh Border Reg (Welsh Victory)
16th April 1723: Skirmish of St Owens Cross (Ergyng) – Welsh Border Reg (Welsh Victory)
29th April 1723: Skirmish of Llandenny – Welsh Border Reg (Welsh Victory)
3rd May 1723: Skirmish of Langstone - Welsh Border Reg (Welsh Victory)
20th June 1723: Battle of Sedbury Fort – Welsh Border Reg (Welsh Victory)
22nd June 1723: Skirmish of Mathern – Welsh Border Reg (English Victory)
1st August 1723: Skirmish of Y Tyllgoed (Fairwater Cardiff) – Welsh Border Reg (Stalemate)
11th November 1723: Battle of Caer Llan – Welsh Border Reg (English Victory)
Gwynedd Rebellion
19th January 1732: Battle of Criccieth – 8th Foot (Welsh Victory)
28th February 1732: Battle of Groeslon – 8th Foot (Welsh Victory)
12th April 1732: Battle of Saron – 8th Foot (English Victory)
13th January – 20th February 1732: Revolt of Aberteifi (English Victory)
8th January – 1st February 1732: Revolt of Aberystwyth (English Victory)
Pembroke Rebellion
30th July 1739: Battle of Wolfsdale (Pembs) – Cardinals Guard (CG), WBR (Welsh Victory)
17th August 1739: Battle of Whitland (Hendy Gwyn) – CG, WBR (Welsh Victory)
28th August 1739: Battle of St Clears – CG, WBR (Welsh Victory)
3rd September 1739: Battle of Crymych – CG (English Victory)
20th September 1739: Skirmish of Llangunnor – WBR (Welsh Victory)
28th September 1739: Battle of St Peters – WBR (English Victory)
15th October 1739: Battle of Clynderwen – CG (English Victory)
30th October 1739: Battle of Narberth – CG, WBR (Welsh Victory)
5th November 1739: 2nd Battle of Narberth – CG, WBR (English Victory)
20th November 1739: Battle of Brawdy – CG, WBR (English Victory)
18th December 1739: Battle of Pembroke – RoM, 2nd, 3rd, 4th Foot (English Victory)
The 5 Year Revolt
31st March 1744: Revolt of Caerodor – WBR, 3rd Artillery (Welsh Victory)
13th April 1744: Battle of Iron Acton – WBR (Welsh Victory)
29th April 1744: Battle of Hengrove - WBR (Welsh Victory)
30th April 1744: Revolt of Henffordd – No Regiments (Welsh Victory)
1st May 1744: Revolt of Llwdlo – No Regiments (Welsh Victory)
5th May 1744: Revolt of Brecon – No Regiments (Welsh Victory)
10th May 1744: Revolt of Caerdydd – No Regiments (Welsh Victory)
18th May 1744: Revolt of Abertawe – No Regiments (Welsh Victory)
20th June 1744: Revolt of Y Pwll – No Regiments (Welsh Victory)
1st July 1744-30th September: Rising of the North – 8th Foot
31st July – 28th August 1744: Rising of the West – CG
18th November 1744-2nd January 1745: Siege of Ludlow (English Victory)
12th December '44 – 12th February 1745: Siege of Henffordd (English Victory)
11th February 1745: Battle of Amwythig – 8th Foot (Welsh Victory)
18th February 1745: Battle of Montford Bridge – 8th Foot (English Victory)
1st March – 20th June 1746: Assault on the North (English Victory)
30th August 1746: Battle of Machynllyth: No Regiments (Welsh Victory)
25th September 1746: 2nd Battle of Machynllyth: No Regiments (English Victory)
30th September '46-3rd March 1747: Assault on the West: English Advance to Fishguard
28th August – 4th April 1747: Assault on the East: English advance through eastern counties
5th March -2nd June 1747: Siege of Brecon (English Victory)
4th May 1747-16th February 1748: Siege of Morgannwg - CG (English Victory)
4th May 1746-13th November 1749: Siege of Caerodor - WBR 3rd Artillery (English Victory)
2nd War of Independence
Battles under Rhisiart 1st
16th – 17th August 1759: Battle of Harlech – RoM, 2nd 3rd 4th Foot (Welsh Victory)
September-December 1759: Siege of Harlech – RoM, 2nd 3rd & 4th Foot. 1st 2nd 3rd Artillery (Welsh Victory)
20th-23rd January 1760: Battle of Aberystwyth – RoM, 3rd, 5th & 8th Foot. 2nd & 4th Artillery (Welsh Victory)
1st-4th March 1760: Battle of Aberteifi – 2nd, 4th & 7th Foot. 1st & 3rd Artillery (Welsh Victory)
23rd -29th April: Battle of Abergwuan (Fishguard) – RoM, 2nd, 3rd, & 6th Foot. 1st & 2nd Horse 1st & 2nd Artillery (Welsh Victory)
10th -19th September 1760: Battle of St Davids – RoM, CG, WBR, 6th, 7th 8th Foot. 1st, 2nd, 4th Horse. 1st, 2nd, 3rd Artillery (Welsh Victory)
1760-61: Siege of Pembroke & Siege of Tenby: CG, RoM, 7th & 8th Foot. 1st, 5th & 7th Artillery (Welsh Victory)
29th -31st May 1762: Battle of Abertawe: CG, RoM, Kings Own Rifles Regiment [KoRR], 3rd, 4th, 7th, Foot. 2nd, 3rd & 5th Horse. 2nd, 3rd & 4th Artillery. (Welsh Victory)
13th -15th June 1762: Battle of Carmarthen: KoRR, 5th Foot (English Victory)
12th-13th June 1762: Battle of Kidwelly: RoM, 6th Foot (English Victory)
June 1762-January 1769: Siege of Carmarthen: 5th Foot (Welsh Victory)
June 1762 – January 1769: Siege of Kidwelly: 6th Foot (Welsh Victory)
18th August 1762: Battle of Harlech: RoM, CG, KoRR, 4th & 5th Foot. 2nd, 3rd & 4th Horse, 1st 6th & 9th Artillery (Welsh Victory)
March 1766: Siege of Ynys Mon: 1st, 2nd & 3rd Marine Battalions (Welsh Victory)
January 1767 – February 1768: Siege of Caernarfon: RoM, 10th Artillery
January 1767 - July 1767: Siege of Criccieth: KoRR, CG (Welsh Victory)
29th July 1771: Battle of Conwy: CG, WBR (English Victory)
1st August: Battle of Garth Celyn: WBR, 3rd Foot (English Victory)
4th – 8th August: Battle of Harlech: CG, RoM, KoRR, 7th & 8th Foot, 3rd & 4th Horse, 1st, 5th 9th Artillery (Welsh Victory)