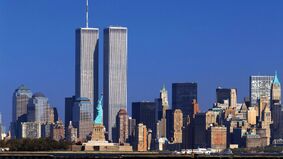 Welcome to the World Trade Center
Look at the New York skyline. See those two buildings? Those are called the Twin Towers or, by its official name, the World Trade Center.
POD(s)
Osama Bin Laden's dad (Mohammed Bin Laden) doesn't die in a plane crash in 1967. Bin Laden doesn't form Al Qaeda but instead follows his father in business.
Differences
The US government is less tight on immigration, security and national defence as 9/11 didn't happen and there was a lot less terrorist attacks.
The world (especially the US) is a less worried about terrorism.
Afghanistan War never happened.
Ad blocker interference detected!
Wikia is a free-to-use site that makes money from advertising. We have a modified experience for viewers using ad blockers

Wikia is not accessible if you've made further modifications. Remove the custom ad blocker rule(s) and the page will load as expected.