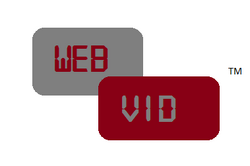 WebVid is an online video hosting website used for uploading media to the Internet, (e.g. the latest movie trailers, music & music videos, and fan-created videos from various genres). The service was first brought online on May 17, 1988 and was one of the first major websites on the newly commercial Internet. In less than a year, WebVid had over 15 million users in the United States alone, with twice that number of videos uploaded. The site's first major trailers included teaser and full-length trailers for Baja, Home Alone, Die Hard 2, and Terminator 2: Judgment Day. With the introduction of Sony's PlayStation video game console in December 1994, WebVid's membership and upload numbers skyrocketed, as the new system was the first to feature Internet access (and hence access to online video streaming websites).
Ad blocker interference detected!
Wikia is a free-to-use site that makes money from advertising. We have a modified experience for viewers using ad blockers

Wikia is not accessible if you've made further modifications. Remove the custom ad blocker rule(s) and the page will load as expected.