綿月 依姫 is one of the major characters of the 東方Project.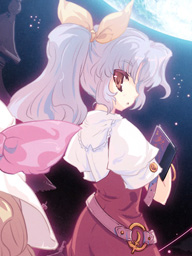 General Information
She, along with her sister, Watatsuki no Toyohime, are in charge of the Lunarian Defense Corps.
She is playable in Phantasmagoria of Dim.Dream and Mystic Square. Though after Mystic Square, she would become a Manga exclusive character.
Personality
She is usually aggressive at first, but she can get along with others as long as they aren't a threat to her or Luna. Other than that, she mostly defends the Lunarians from suspected invaders.
Abilities
She is mainly skilled with swords and katanas.