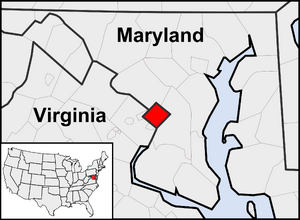 Washington, D.C. (pronounced /ˈwɒʃɪŋtən ˌdiːˈsiː/), formally the District of Columbia and commonly referred to as Washington, the District, or simply D.C., is the capital of the United States founded on July 16, 1790. The U.S. Constitution allows for the creation of a special district to serve as the permanent national capital. The District is therefore not a part of any U.S. state and is instead directly overseen by the federal government. Within the District, a new capital city was founded in 1791 and named in honor of George Washington. The City of Washington, along with Georgetown and outlying areas within the federal district, were placed under a single, unified government following an act of Congress in 1871. It is for this reason that the city, while legally named the District of Columbia, is known as Washington, D.C. The city shares its name with the U.S. state of Washington located on the country's Pacific coast.
Ad blocker interference detected!
Wikia is a free-to-use site that makes money from advertising. We have a modified experience for viewers using ad blockers

Wikia is not accessible if you've made further modifications. Remove the custom ad blocker rule(s) and the page will load as expected.