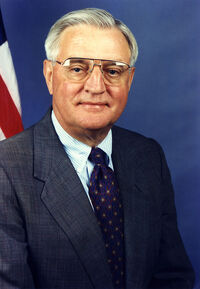 Walter Frederick "Fritz" Mondale
(born January 5, 1928) is an American Democrat party politician, who served as the 40th President of the United States between 1989 and 1993.
His presidency is often seen as a transitional period between the two Republican eras, Reagan's 1980s, and Bush's 1990s America. Actually, Mondale's election victory was a surprise, as after eight years of Reagan's presidency, the general public expected another Republican president.
Mondale's Vice President was Ted Kennedy.