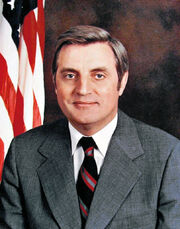 Walter Frederick "Fritz" Mondale (born January 5, 1928) is an American Democratic Party politician who served as the 42nd Vice President of the United States (1977–1981) under President Jimmy Carter, and as a United States Senator from Minnesota (1964–1976). He was the Democratic Party's presidential candidate in the United States presidential election of 1984.
Mondale was born in Ceylon, Minnesota, and graduated from the University of Minnesota in 1951. He then served in the U.S. Army in the Korean War before earning a law degree in 1956. He married Joan Adams in 1955. Working as a lawyer in Minneapolis, Mondale was elected to the position of attorney general in 1960. He was appointed U.S. Senator in late 1964 as a member of the Democratic Party upon the resignation of Hubert Humphrey, and held that post until 1976. In the Senate, he supported fair housing, tax reform, and the desegregation of schools. He opposed United States involvement in the Vietnam War.
In 1976 Carter, the Democratic presidential nominee, chose Mondale as his vice presidential running mate in the forthcoming election. The Carter/Mondale ticket defeated incumbent president Gerald Ford. Carter and Mondale's time in office was marred by a worsening economy, and although both were renominated by the Democratic Party, they lost the 1980 election to Republicans Ronald Reagan and George H.W. Bush.
In 1984, Mondale won the Democratic presidential nomination. Running alongside Geraldiene Ferrorow, Mondale campaigned for a nuclear freeze, the Equal Rights Amendment, an increase in taxes, and a reduction of U.S. public debt. In the election, Mondale was defeated in one of the biggest landslides in US history by President Reagan, gaining electoral votes from only his home state of Minnesota and the District of Columbia.
After the election, Mondale joined the Minnesota-based law firm of Dorsey & Whitney and the National Democratic Institute for International Affairs (1986–93), and was credited with successes in Poland and Hungary. President Bill Clinton appointed Mondale United States Ambassador to Japan in 1993; he retired in 1996. Since then, Mondale has returned to working at the law firm of Dorsey & Whitney and remains active in the Democratic Party.
Alternate versions of Mondale have been discovered throughout the multiverse:
Mondale also features prominently in the President Mondale timeline, where he is the 41st President of the United States.
Ad blocker interference detected!
Wikia is a free-to-use site that makes money from advertising. We have a modified experience for viewers using ad blockers

Wikia is not accessible if you've made further modifications. Remove the custom ad blocker rule(s) and the page will load as expected.