Wallonia
Wallonie
— Region of France —
Timeline: Scotland says "Yes"
OTL equivalent: Wallonia (excluding German Community and Belgian Luxembourg

Flag
Coat of Arms

Location of Wallonia within France



Administrative regions of Wallonia.

Prefecture
Namur
Other cities
Charleroi, Liége, Mons, La Louviére, Tournai, Seraing, Verviers, Mouscron, Herstal, Braine-l'Alleud, Châtelet
Legislature
Regional Council of Wallonia
President
Paul Magnette
Area
11547 km²
Population
3,228,797 
Wallonia
(French: 
Wallonie
, Dutch:
Wallonië
), is a Region of France, created after the
breakup of Belgium
. It roughly corresponds to the former Belgian region of Wallonia, though with the notable exceptions of the former German-speaking community (now the independent
Republic of Eupen-Malmedy
) and the Province of Luxembourg, which joined
Luxembourg
.
Due to borders, it has been proposed that region be merged with Haut-de-France, partially for integration and administrative reasons, as well as the fact that the Walloon Municipality of Comines-Warneton is separated from Wallonia. However, there have been fears that this could prompt calls in the north of Haut-de France to join Flanders.
Geography
Wallonia is landlocked, with an area of 16,844 km2. It is bordered by independent Flanders to the North, Eupen-Malmedy to the East, Luxembourg to the South-East, and the French regions of Grand Est and Hauts-de-France to the South.
Subdivisions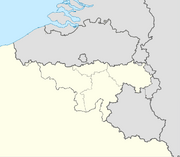 Administratively, Wallonia consists of the provinces of Brabant, Hainaut, Liége and Namur.
Politics
The majority of the Walloon parties merged with national French parties. However, some still remain independent, or locally operate under their former names. The parties are:
Europe Ecology - The Greens (Operates locally as Ecolo)
Walloon DemocraticFederalists (part of Régions et Peuples Solidaires Federation)
Humanist Democratic Centre
Socialist Party (Operates locally with former symbols)
The Republicans (Operates locally as the Reformist Movement)
Citizens' Movement for Change
Economy
Wallonia is rich in iron and coal, which have played important roles in its history. The economy is relatively diverse, though certain areas are still suffering from the steel industry.
Belgium
Scotland says "Yes"
Successor States

France

Wallonia

Luxembourg
Arrondissements

Arlon

♦

Bastogne

♦

Marche-en-Famenne

♦

Neufchâteau

♦

Virton

Cities

Arlon

♦

City of Brussels

♦

Eupen

♦

Ghent

♦

Namur

Events
International Organisations
Related Articles
Timeline
Ad blocker interference detected!
Wikia is a free-to-use site that makes money from advertising. We have a modified experience for viewers using ad blockers

Wikia is not accessible if you've made further modifications. Remove the custom ad blocker rule(s) and the page will load as expected.