Ad blocker interference detected!
Wikia is a free-to-use site that makes money from advertising. We have a modified experience for viewers using ad blockers

Wikia is not accessible if you've made further modifications. Remove the custom ad blocker rule(s) and the page will load as expected.
Wales
Cymru
— Home country in union with the Commonwealth of England, Scotland and Ireland —
Timeline: Cromwell the Great
OTL equivalent: Wales

Flag of Saint David, widely adopted in the mid 17th century to represent Wales

Location of Wales (purple)

Capital
(and largest city)
Cardiff
Language
  official
 
English
  others
Welsh
Religion
  main
 
Church of England

---

  others
Other Protestants
Ethnic group
European
Demonym
Welsh (Cymry)
Government
Home country in union with the Commonwealth of England, Scotland and Ireland
Lord Protector
Henry Cromwell
Area
20,779 km²
Established
Laws in Wales Acts 1535 and 1542, Part of the Commonwealth from 1649 to date
Admission
Since 1535 as full and equal part of the Kingdom of England
Currency
Pound sterling
Canys wele fi yn creu nefoedd newydd, a daear newydd: a'r rhai cyntaf ni chofir, ac ni feddylir amdanynt.
(Eseia 65:17 / Isaiah 65:17)
Wales (Welsh: Cymru) is a home country that is part of the Commonwealth and the island of Great Britain, bordered by England to its east, the Irish Sea to its north and west, and the Bristol Channel to its south. It has a total area of 20,779 km². Wales has over 2700 km of coastline and is largely mountainous, with its higher peaks in the north and central areas, including Snowdon (Yr Wyddfa), its highest summit. The country lies within the north temperate zone and has a changeable, maritime climate.
History
On the Proclamation of Commonwealth (1649), Wales remained a a full of England has it has been since 1535. The much criticized Council of Wales and the Marches was formally dissolved in 1663. The judicial powers of the Court of Great Sessions were expanded. However Acts of Parliament recognized Wales as an separate entity for purposes of electoral representation to the House of Commons and the Senate.
Although Wales did not enjoyed a separate administrative body like Scotland and Ireland a committee for Welsh Affairs was recognized by the Speaker of the Commons during the 1665 debates that lead to the establishment of the New Commissioners. Although the commission was limited in its role and usually consigned itself to revise the acts of the New Commissioners and most of its members were non Welsh, in time it became a forum of Welsh demands against unfair taxation and laws, and appeal for the improvement of the home country.
The change of language policy of 1665 for religious services marked a revival of Welsh. From the schools were Welsh recovered its status it later became used widely in courts, by justices of peace and the local administration. The part landed gentry in Wales, which for centuries has a group had adopted the more prestigious English language, mores and education, became adept to speak Welsh again and endowed its culture and education.
Justice in Wales
The Court of Great Sessions in Wales is the main court for the prosecution of felonies and serious misdemeanours in Wales. It has the same powers in civil law as the King's Bench in England and (it also had equity jurisdiction) and its criminal jurisdiction was equivalent to the English county assizes. The Sessions met twice a year in each county, in around April/May and August/September, administering English law - officially, in English, and as an the extensive use of interpreters that acknowledges of linguistic realities of Wales.
Administrative organization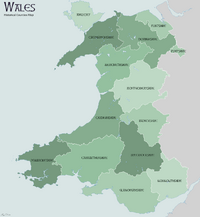 Wales is divided in 13 counties, and each subdivided in parishes. The counties are the following ones:
Monmouthshire (Sir Fynwy)
Glamorganshire (Sir Forgannwg or Morgannwg)
Carmarthenshire (Sir Gaerfyrddin or Sir Gâr)
Pembrokeshire (Sir Benfro)
Cardiganshire (Sir Aberteifi or Ceredigion)
Brecknockshire (Sir Frycheiniog)
Radnorshire (Sir Faesyfed)
Montgomeryshire (Sir Drefaldwyn)
Denbighshire (Sir Ddinbych)
Flintshire (Sir y Fflint)
Merionethshire (Sir Feirionnydd or Meirionnydd)
Caernarfonshire (Sir Gaernarfon)
Anglesey (Sir Fôn)
There is one city in Wales that has this status determined by letters patent: Bangor (time indeterminate). There are also two counties corporate: County Towns of Carmarthen (1604) Haverfordwest (1479).
Religion
Wales is territorially part of the Church of England (Eglwys Loegr), until the establishment of the Church of Wales as a separate entity.
The first specific religious body for wales were the Commissioners for better propagation of Gospel in Wales that had the powers to examine and eject ministers and schoolmasters, and also root out superstitious practices and beliefs. The said Commissioners it carried out their duties for three years (1650-1653).
Venner's Rising disclosed a previously unchecked spread of Fifth Monarchists preachers and congregations in Wales. To many the fault of this was during the activities of the Commission for the Gospel and later under the auspices of Vavasor Powell and Thomas Harrison. As a means to purge extreme non-conformists the Commissioners for the Propagation of Christian Knowledge in Wales[1] was created and renewed every 10 years (1665 to date), with the added tasks of promoting the use of Welsh languages by ministers, schoolmasters and in Church services and texts. This Commission, that was a specialized body of the Church of England, became later the basis of the Church of Wales arranged in a union of parishes.
As a result this language policy the Church of England brought out a translation of the Book of Common Prayer (Welsh: Y Llyfr Gweddi Gyffredin) and re edited a Welsh translation of the Bible.
Nonconformity sub existed under the form of Millenarism. Notable voluntary unions or associations are the Baptist Union of Wales (Undeb Bedyddwyr Cymru), the Union of Welsh Independents (Undeb yr Annibynwyr Cymraeg), a congregationalist association and the Quakers (Welsh Yearly Meeting of Friends).
Economy
Economic development in Wales is restricted by its peripheral location, predominantly upland topography, bad communications and sparse population. Commerce is most advanced in the small coastal ports that have regular commerce with Bristol or Liverpool; the other major sources of external trading contact are the drovers, who drove cattle from Mid Wales along Drovers roads for sale and slaughter in the English Midlands and London's Smithfield Market from the 14th century onwards.
Parliamentary representation
The parliamentary representation of Wales is the following:
House of Commons
Boro'
const.
County
const.
Univ.
const.
Total
const.
Boro'
MPs
County
MPs
Univ.
MPs
Total
MPs
House of Commons (1654-...)
2
12
—
14
2
23
—
25
Senate
Total Senators
Senate (1663-...)
/
/
/
/
9
Notes
↑ More commonly known as the New Commissioners (of 1665)
---