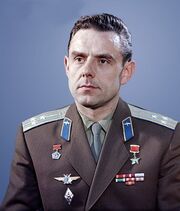 Vladimir Mikhaylovich Komarov
(March 16, 1927 - November 9, 1985) was a Soviet cosmonaut, and, leading the Soyuz 5 mission, the first man on the Moon, on April 22, 1970. His now historic first words were "
In the name of the Soviet Union, and the whole humankind, shall be united in peace and freedom, I make this first step.
", before planting the Red Flag at the Sea of Tranquility. Later the landing site was named "Point Lenin" in honor of
V.I. Lenin
, founder of the USSR. After his return to Earth, Komarov was promoted to General, and awarded the Hero of the Soviet Union medal by Secretary General
Leonid Brezhnev
. Later, the Soviet space center in Baikonur was renamed "Komarov Cosmodrome" in his honor.
Ad blocker interference detected!
Wikia is a free-to-use site that makes money from advertising. We have a modified experience for viewers using ad blockers

Wikia is not accessible if you've made further modifications. Remove the custom ad blocker rule(s) and the page will load as expected.