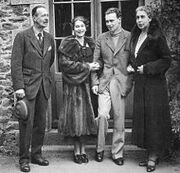 Vladimir I (Vladimir Kirillovich) (born 30 August (O.S. 17 August) 1917 in Tsarskoye Selo, Saint Petersburg, Russia, died there 21 April 1992) was Emperor of Russia and King of Poland. He was the third child and only son of Emperor Cyril I of Russia and his wife, Princess Victoria Melita of Saxe-Coburg and Gotha.
He became Emperor of Russia and King of Poland upon the death of his father on 12 October 1938.
Emperor Vladimir I married on 13 August 1948 to Princess Leonida Georgievna Bagration of Mukhrani (1914-2010), a daughter of Prince George Bagration of Mukhrani and his wife, Helena Sigismundovna, née Nowina Zlotnicka. Vladimir and Leonida had a daughter, Mary (born 1953).
Having no male issue, the throne passed to Nicholas III.
Ad blocker interference detected!
Wikia is a free-to-use site that makes money from advertising. We have a modified experience for viewers using ad blockers

Wikia is not accessible if you've made further modifications. Remove the custom ad blocker rule(s) and the page will load as expected.