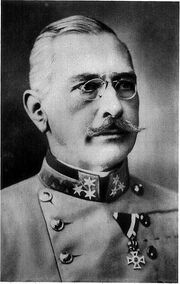 Count Viktor Dankl von Krasnik (German: Viktor Graf Dankl von Krasnik, born as Viktor Dankl on September 18, 1854, in Udine, died August 29, 1914 in Galicia) was a highly decorated career Austro-Hungarian officer who reached the pinnacle of his service during World War I with promotion to the rare rank of Colonel General (Generaloberst). His successful career met an abrupt end in 1914 due to both his performance in the Battle of Galicia, in which he was killed.
Ad blocker interference detected!
Wikia is a free-to-use site that makes money from advertising. We have a modified experience for viewers using ad blockers

Wikia is not accessible if you've made further modifications. Remove the custom ad blocker rule(s) and the page will load as expected.