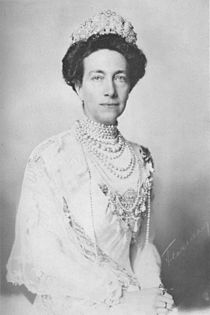 Victoria I (Sophia Mary Victoria, Swedish: Sofia Maria Viktoria, German: Sophie Marie Viktoria) was reigning queen of Sweden. She was born 7 August 1862 in Karlsruhe, and died 4 April 1930 in Stockholm. She became Queen of Sweden upon the death of her brother, king Frederick II, 8 or 9 August 1928.
Victoria's parents were Grand Duke Frederick I of Baden and Princess Louisa of Prussia.
She married in Karlsruhe on 20 September 1881 count Gustaf Bernadotte af Wisborg, who was created prince Gustavus of Sweden by her brother 15 December 1907. After the marriage, the couple settled in Sweden.
Victoria was very conservative, and sincerely believed in the divine right of kings. However, she reigned for a very short time.
She had three sons, who were created princes of Sweden at the same time as her husband:
Gustavus Adolphus, who succeeded her on the throne
William
Erik