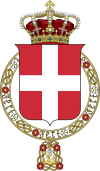 Victor Emanuel IV (Italian: Vittorio Emanuele IV) is the current King of Italy.
He was born on 12 February 1937 in Naples, Italy, son of Crown Prince Umberto of Italy (later to become King Umberto II of Italy) and his wife, Princess Mary José of Belgium. He became King of Italy upon the death of his father on 18 March 1983.
He married on 7 October 1971 to Swiss-born Marina Ricolfi-Doria (born 1935), daughter of René Italo Ricolfi-Doria (1901-1970) and his wife, Iris Benvenuti (1905-2004). The couple have a son, Crown Prince Emanuel Philibert (born 1972).
Ad blocker interference detected!
Wikia is a free-to-use site that makes money from advertising. We have a modified experience for viewers using ad blockers

Wikia is not accessible if you've made further modifications. Remove the custom ad blocker rule(s) and the page will load as expected.