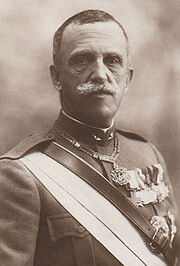 Victor Emanuel III (Italian: Vittorio Emanuele III) was King of Italy.
He was born on 11 November 1869 in Naples, Italy, the only child of King Umberto I of Italy and his wife Princess Margaret of Savoy.
He became King of Italy upon the death of his father on 29 July 1900, and reigned Italy for the rest of his life. He died on 28 December 1947 in Naples.
He married on 24 October 1896 to Princess Helen of Montenegro (1873-1952), daughter of King Nicholas I Petrovic-Njegos of Montenegro and his wife Milena Vukotic, having the following issue:
Yolanda Margaret (1901-1986)
Mafalda (1902-1944)
Umberto (1904-1983), who succeeded his father as King Umberto II of Italy
Joan (1907-2000)
Mary Frances (1914-2001)