The following Space Race Didn't End page is under construction.

Please do not edit or alter this article in any way while this template is active. All unauthorized edits may be reverted on the admin's discretion. Propose any changes to the talk page.

Venus is the second planet from the Sun, orbiting it every 224.7 Earth days. The planet is named after the Roman goddess of love and beauty. After the Moon, it is the brightest natural object in the night sky, reaching an apparent magnitude of −4.6, bright enough to cast shadows. Because Venus is an inferior planet from Earth, it never appears to venture far from the Sun: its elongation reaches a maximum of 47.8°. Venus reaches its maximum brightness shortly before sunrise or shortly after sunset, for which reason it has been referred to by ancient cultures as the Morning Star or Evening Star.
Exploration
The first robotic space probe mission to Venus, and the first to any planet, began on 12 February 1961, with the launch of the Venera 1 probe. The first craft of the otherwise highly successful Soviet Venera program, Venera 1 was launched on a direct impact trajectory, but contact was lost seven days into the mission, when the probe was about two million km from Earth. It was estimated to have passed within 100,000 km of Venus in mid-May.
The Soviets
Colonies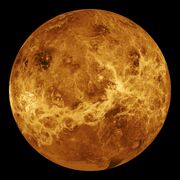 Ad blocker interference detected!
Wikia is a free-to-use site that makes money from advertising. We have a modified experience for viewers using ad blockers

Wikia is not accessible if you've made further modifications. Remove the custom ad blocker rule(s) and the page will load as expected.