This alternate history related article is a stub. You can help by expanding it.
Vancouver is the largest city in the state of Oregon, located at the confluence of the Willamette and Columbia Rivers. The city is a major financial, trade, commercial and cultural center for the American Pacific Northwest, as the largest city in the region and the heart of a massive metropolitan area.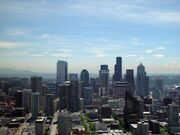 Vancouver enjoys one of the highest standards of living in the United States, and is home to numerous tech companies and major corporations. Athletic outfitter Nike has their corporate headquarters in the city, and Columbia Bank operates in the city as well. Samson Pharmaceuticals and Nylex Biochemicals have factories and research labs in the city, and Vancouver is a major trade destination for Pacific Rim countries.
In an odd move, Vancouver won the 2006 Summer Olympic games against considerably more favored bids and held a triumphant Olympiad, placing it in a category of global cities. It is known as being one of the safest in the country and has enjoyed robust economic growth for nearly twenty years. It's nickname is the "Sparkling City" due to its cleanliness and safety, and is known for being one of the most liberal cities in the country.