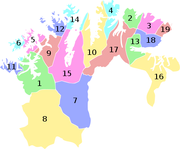 Vadsö County (Swedish: Vadsö län, Norwegian: Vadsø len) is a county in Sweden. It has an area of 48,616 sq km and a population of 73,509 residents. Vadsö (Norwegian: Vadsø) is the capital of the county, although Alta is the largest city.
Vadsö County was historically Finnmark County (Finnmark Amt) in the north of Norway, but it was ceded to Sweden 1864, after the Prussian-Swedish-Danish war. However, most of the population still speaks Norwegian, with Sami and Finnish minorities in the county.
Vadsö County is a constituency in the elections to the house of commoners.
Governor of Vadsö County is Gunnar af Kjönnöy.