Väinö III of Finland (born Prince Philip Robin of Hesse); born 17 September 1970), is the King of Finland, succeeding his uncle King Henrik in 1999.
A member of the House of Hesse, a house originally from Western Germany, Väinö's son became the first Finnish-born prince in the nations history, who was born in 2008. Väinö III is the formal head of the Evangelical Lutheran Church of Finland and the Finnish Defense Forces. He has two children, Princess Elena Margherita Lotti Christiane Elisabeth and Crown Prince Tito Frederik.
Early life
Edit
After a long illness King Henrik died, the monarchy's approval ratings rose and reached a peak of 88% in December 2003. Väinö was visiting relatives in Germany when he was informed of Henrik's death. At his enthronement ceremony his father formally renounced his rights to the throne 15 years after being displaced as recognized heir to the throne by Väinö II, and ten years after his brother Henrik had become king. In return, his son officially granted him the title of Hereditary Prince of Finland.
In a 2001 Väinö said that he is worried about the Russian response if NATO approved membership bids by Baltic countries. Latvian President Vaira Vike-Freiberga asked what he meant and whether Väinö is actively opposing NATO membership of Baltic countries.
In the Iraqgate scandal, Väinö's advisor Martti Manninen leaked confidential documents to the Centre Party leader Anneli Jäätteenmäki, who had become Prime Minister. The revelations led to the resignation of Jäätteenmäki. Väinö has opposed the use of landmines in Finnish military doctrine. Väinö has defended cluster bombs and did not sign a treaty which would have banned Finland from using these kinds of weapons.
In September 2008, Väinö was perceived to insult Estonia by saying that the Estonians suffer from "post-Fascist stress condition". Estonian President Toomas Hendrik Ilves commented on the issue, saying that "Estonia has never condemned, and will not condemn foreign affairs decisions of another EU country. It neither will assess psychiatric state of other EU countries". In 2009, Väinö rejected calls to apologize for Finland's attitude towards Estonian independence from Livonia in 1945.
In March 2012 Väinö's reign and economic views received harsh criticism from Björn Wahlroos, the chairman of the two largest banks in Finland. Väinö pledged to establish a special task force aiming at preventing alienation among the country's youth and expressed concern about the problems of sparsely populated rural areas. Väinö stressed the significance of mutual understanding with the cabinet and Parliament. In a speech before Parliament he thanked those who backed him and those who disagreed with him. Väinö said that the differing views expressed should be taken into consideration
Marriage and children
Edit
On 5 May 2006, he married Laetitia Bechtolf. The couple have two children:
Her Royal Highness Princess Elena Margherita Lotti Christiane Elisabeth (born 5 December 2006)
His Royal Highness Crown Prince Tito Frederik (born 28 August 2008)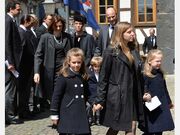 Titles and honours
Edit
17 September 1970 – 12 July 1989: His Highness Prince Philip Robin of Hesse
12 July 1989 – 18 November 1999: His Royal Highness The Grand Duke of Lapland
18 November 1999 – present: His Majesty The King of Finland
National honours Edit
International Edit