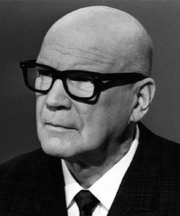 Urho (Urho Kaleva) Kekkonen, born 3 September 1900 in Pielavesi, Kuopio County, Finland (Sweden), died 31 August 1986 in Helsingfors, Helsingfors County, Finland (Sweden), was a Finnish conservative politician and governor-general of Finland.
He was a lawyer and member of the house of commoners 1936-1954. He was vice chairman of the National Conservative Party of Sweden and vice prime minister of Sweden 1950-1954, and then governor-general of Finland 1954-1975, when he decided to retire. As governor-general, he established and maintained good relations with the political leadership in neighboring Russia.
He was married to Sylvi Salome Uino.
Ad blocker interference detected!
Wikia is a free-to-use site that makes money from advertising. We have a modified experience for viewers using ad blockers

Wikia is not accessible if you've made further modifications. Remove the custom ad blocker rule(s) and the page will load as expected.