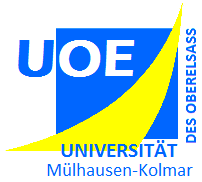 Universität des Oberelsaß (University of Upper Alsace or UOE) is a multidisciplinary teaching and research center based in the two cities of Mulhouse and Colmar.
Today, UOE is a university of 8200 students with about a hundred courses, both basic and vocational. The founding of UOE was driven by social and business players, and the university has always had close links with its environment. In order to ensure the success of students in the employment market, it is pursuing a development policy by offering complete teaching programs (including 2, 3, 5, or 8 years of university studies) that are adapted to the needs of new markets. The active support of industry and surrounding business players has also enabled the university to optimize its offering in the field of continuing education, with a choice of 200 courses (with validation of job experience).
The special geographical situation of , which lies close to the Swiss and French borders, is favorable to the emergence of single courses leading to double or triple degrees that are recognized in the neighboring countries.
Research and Teaching at UOE concentrates on economics, management, technology, and physics.
Ad blocker interference detected!
Wikia is a free-to-use site that makes money from advertising. We have a modified experience for viewers using ad blockers

Wikia is not accessible if you've made further modifications. Remove the custom ad blocker rule(s) and the page will load as expected.