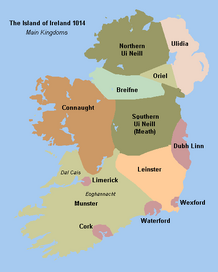 Timeline One: An Ireland United
Note: Not main timeline
1155
5th May: The Pope declines Henry II appeal to invade Ireland.
1172
8th June: The Leinster Wars begin. Diarmuid Ui Neill wages war on King Fionn of Leinster.
1181
30th September: The Leinster Wars end, much land has been gained by the Ui Neill Clan.
1214
3rd January: Diarmuird-Aiden Ui Neill, son of Diarmuid begins the Brefine-Oriel Wars.
1227
4th June: The Brefine-Oriel Wars end, the Ui Neills gain control over all the Brefine and Oriel lands are annexed, uniting the Northern Ui Neill kingdoms and the Southern Ui Kingdoms.
1239
7th August: Ulidiais conquered by the Ui Neills.
1266
12th March: The Leinster-Munster Wars begin.
1272
9th October: Leinster beats Munster and expands into their territory.
1274
March-November: A series of Rebellions in Munster leads to the creation of two new kingdoms- Dal Cais and Luceni Nua. Connaught expands slightly after the rebellions.
1275
4th April: The Burke tribe, along with several other tribes, rebel against King Breadan of Connaught with assistance from Queen Meave and King Cabhan of Ui Neill.
18th November: A new Kingdom ruled by the Burkes is established in Connaught.
2nd December: With Connaught weakened, the Ui Neill tribe declares war, lead by Queen Meave, one-eighth of their land is captured in 12 days.
1276
14th January: Leinster invades Munster.
19th April: The Leinster invasion of Munster ends.
29th November: The battle of Cork leads to Leinster's advancement into Munster territory.
1278
2nd January: The Ui Neill's take Wexford.
8th February: In an unsuspecting turn of events Eoghannacht retakes Cork.
15th April: Dal Cais pushes into Leinster territory.
6th June: The Ui Neills advance towards Waterford.
29th November: The Ui Neills declare war on Dal Cais.
1279
18th April-28th May: Dal Cais launches an attack on Eoghannacht and the Ui Neills take some Dal Cais land.
18th December: The Luceni Nua advance on Cork.
29th December: The Eoughannacht reclaim a bit of land.
1280
19th May: The Ui Neill advance on the settlement of Cork.
17th August: The Ui Neill defeat the Eoughannacht.
29th August: Construction on the Wall of Dubh Linn, surrounding Dubh Linn, begins.
1289
6th June: Burke and Ui Neill form a alliance and Burke is annexed.
9th December: Queen Meave unveils her plans to unite Eire under her reign. She also states that the island needs to became influential in Europe like England and the Holy Roman Empire.
Ad blocker interference detected!
Wikia is a free-to-use site that makes money from advertising. We have a modified experience for viewers using ad blockers

Wikia is not accessible if you've made further modifications. Remove the custom ad blocker rule(s) and the page will load as expected.