United States presidential election, 2016 (1861: Historical Failing)
Talk

0
Share
‹ 2012  2020 ›
United States presidential election, 2016
November 8th, 2016
Nominee
Bernie Sanders
Ted Cruz
Earl Ray Tomblin
Party
Progressive
Republican
Democratic
Home state
Vermont
Texas
West Virginia
Running mate
Alan Grayson
Carly Fiorina
Jack Carter
Electoral vote
313
224
8
States carried
27+DC
26
2
Percentage
TBD
TBD
TBD
Nominee
Donald J. Trump
Gary Johnson
Jill Stein
Party
Independent
Libertarian
Green
Home state
New York
New Mexico
Massachusetts
Running mate
Curt Schilling
William Weld
Ajamu Baraka
Electoral vote
3
2
1
States carried
1
0
0
Percentage
TBD
TBD
TBD
The United States presidential election of 2016 was a presidential election, held in November 8th, 2012, which saw the victory of Progressive candidate Bernie Sanders, s Vermont, against Senator Ted Cruz from Texas, of the Republican Party.
Candidates
Progressive
Withdrawn candidates
Democratic
Withdrawn candidates
Republican

Candidates included in this section have received one or more delegates in various primaries and caucuses.
Ted Cruz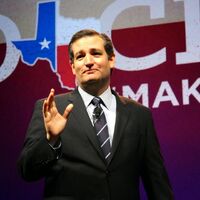 U.S. Senator from Texas
(2011–present)
Campaign
Withdrawn candidates
Ad blocker interference detected!
Wikia is a free-to-use site that makes money from advertising. We have a modified experience for viewers using ad blockers

Wikia is not accessible if you've made further modifications. Remove the custom ad blocker rule(s) and the page will load as expected.