‹ 2004  2012 › ›
United States presidential election, 2008
November 4, 2008
Nominee
George W. Bush
Hillary Rodham Clinton
Party
Republican
Democratic
Home state
Texas
New York
Running mate
Colin Powell
Joe Biden
Electoral vote
305
233
States carried
31
19 + D.C
Popular vote
63,353,091
58,412,311
Percentage
53.7%
46.2%
Presidential election results map. Red denotes states won by Bush/Powell (24 ), Blue denotes Clinton/Biden(25 + D.C.).
The United States presidential election of 2008 was held on Tuesday November 4, 2008 to elect the 44th president of the United States of America. It was the 56th quadrennial election for President and Vice President. John McCain, the incumbent President, was vacating the position after serving the maximum two terms allowed by the Twenty-second Amendment. McCain's Vice President, George W. Bush, won the Republican nomination, while the Democrats nominated Hillary Rodham Clinton, Junior Senator from New York, former First Lady, and the first female nominee for a major party ticket.
Bush capitalized on McCain's popularity while the primary issues of the campaign were health care, education, climate change and energy policies, foreign policy and taxation. The result of the election was a third lopsided Republican presidential election victory.
Background
Edit
In 2004, President John McCain won reelection with a large margin. After Republican pickups in the House and Senate in the 2004 elections, Republicans held their control of both the executive and legislative branches of the federal government.
McCain's approval ratings had remained high throughout his presidency, with a high point of 95% after 9/11. Following the lowest point in October 2003 at 52%, and they were 58.24% after his reelection. McCain's approval ratings increased back into high-60s to the mid-70s following the success of the counter-insurgency strategy in Iraq. Throughout 2007 and 2008, McCain's approval ratings reached almost constantly around 70% and the Republican party appeared to have a clear advantage in the upcoming Congressional elections. Additionally, Democrats pulled out several surprise victories in Congress and gained the majority in both houses. McCain's approval ratings continued to rise steadily throughout the rest of his term.
McCain was barred from seeking a third term by the Twenty-second Amendment, which meant that the Democrats would either face Vice President Bush or another Republican candidate in the election.
Republican Party Nomination
Edit
Republican Party candidates
Edit
Republican Party primaries
Edit
Incumbent Vice President George W. Bush had a strong base within the party, financial support of most of the party establishment and received endorsements from both conservative and moderate Republicans, including senators Saxby Chambliss, Mitch McConnell, Lindsey Graham and Fred Thompson, governors Arnold Schwarzenegger, Mitt Romney, Mike Huckabee and Bobby Jindal, former New York mayor Rudy Giuliani, former First Lady Nancy Reagan, former President George H. W. Bush and the popular President John McCain.
Bush's campaign focused on a modified version of "compassionate conservatism" while pledging to continue some of McCain's policies. While serving as Vice President, he had moved from the right to the more moderate side of the Republican Party on issues including alternative energy and energy independence. He also pledged to continue the War on Terrorism, with the main focus on Afghanistan. His compassionate conservatist positions included a greater role for the federal government in funding education, large reductions in the income and capital gains tax rates, government spending. He also supported the continuation of the military reforms and enlarge AIDS relief to Third World countries.
However, Bush got an unexpected challenger when Representative Ron Paul of Texas officially entered the race for the Republican candidacy for president on March 12, 2008. However, initial opinion polls during the first three quarters of 2007 showed Ron Paul consistently receiving support from 3% or less of those polled, and was thus not a serious threat to Bush.
During the fourth quarter of 2007, Paul succeeded in fundraising approximately 20 million dollars for his campaign. Ron Paul's campaign set a fund raising record: twice receiving the most money received via the Internet in a single day by any presidential candidate in American history. Paul's run for president is also noted for its grassroots social networking, facilitated by the Internet (mainly via YouTube, MySpace and Facebook).
Due to these fund raising successes, Paul's candidacy was taken seriously by the party establishment and political analysts. Though Bush swept most of the Republican primaries Ron Paul emerged victorious in the Montana,Wyoming and Vermont primaries and eventually took 33% of the vote in the Texas primary and caucus. Once the multiple-state primaries such as Super Tuesday began, Bush's organizational strength and fund raising lead were impossible for Paul to match, and the nomination was his. The Republican party convention was held in Saint Paul, Minnesota. Bush was nominated unanimously.
Democratic Party Nomination
Edit
Democratic Party candidates
Edit
Before the primaries
Edit
Several Democrats candidates appeared on the national scene to succeed Republican President John McCain and challenge the nominee of the incumbent party, George W. Bush.
On January 18, 2007, after the Democratic defeat in the mid-term election, former First Lady and Senator Hillary Rodham Clinton announced her candidacy for president of the United States. She quickly became the leading front runner along with senators John Edwards and Barack Obama. However, in a surprising move, Barack Obama announced on January 27 that he would not run for president until at least 2012 due to the fact that he had little experience in the U.S. senate.
By October 2007, the consensus listed about three candidates as leading the pack after several debate performances. For example, both CNN and The Washington Post listed Hillary Clinton, John Edwards, and Bill Richardson as the Democratic front runners, "leading in polls and fundraising and well ahead of the other major candidates". Clinton led in nearly all nationwide opinion polling until January.
Clinton raised over $20 million in the first three months of 2007. Edwards raised over $12 million and Richardson raised over $6 million. Hillary Clinton set the Democratic record for largest single day fund raising in a primary on June 30, 2007 while Barack Obama set the record for monthly fund raising during a primary with $55 million in February of 2008.
Democratic Party primaries
Edit
After former First Lady and Senator from New York Hillary Clinton declared her candidacy for president most pundits declared that the Democrats would be thrust straight into the general election which would be a race between Clinton and Vice President Bush. These theories were strengthened when Clinton's only possible competitor, the popular Junior Senator Barack Obama of Illinois declined to run until at least 2012 and only if Democrats lost the election.
Clinton led in fund raising over all other candidates combined by yjtrr-to-one in the first months of the campaign by raising 16 million dollars to her opponents five million dollars. Clinton continued to have massive leads in fundraising until Super Tuesday, due to increased use of grassroots social networking, facilitated by the Internet (mainly via YouTube, MySpace and Facebook)..
Clinton opened at the Iowa caucuses with a narrow win on John Edwards. After her win in Iowa Clinton went on to win every pre-Super Tuesday contest except for South Carolina were Edwards triumphed. On Super Tuesday Clinton won every primary and caucus and was soon victorious when every other candidate dropped out of the race to endorse her.
General Election
Edit
Although the campaign was focused mainly on domestic issues, proposed reforms of Social Security and Medicare, health care, competing plans for tax relief, energy policy, defense and foreign policy (with the War on Terrorism in focus) was often at issue.
On May 17, 2008, with the general election campaign between Bush and Clinton heating up, Bush announced at a political gathering in Texas that he had chosen Secretary of State Colin Powell as his running mate, and that he had accepted the offer. The move was applauded by many Republicans, both the conservative and moderates, and analysts concluded that Bush's experience as Vice President and Governor of Texas and Powell's experience as Secretary of Defense would secure both domestic and foreign issues, and that the Bush-Powell ticket be a difficult team for the Democrats to defeat in November. In response to this, Clinton named John Edwards as her running mate two days later.
Bush's polls remained high during the spring and summer, and he appeared often with President McCain, who had a approval rating over 70%. On the other hand, Clinton's hopes for the presidency were hurt when her running mate John Edwards admitted on August 8 that he had had an extramarital affair during the campaign. The Democrats suffered a 8% drop in the polls as a result, and both Edwards himself and the party establishment urged Clinton to replace him.
At the 2008 Republican National Convention in Saint Paul, Minnesota between September 1 - September 4, Bush was nominated as the Presidential Nominee while Powell was nominated as the Vice Presidential Nominee. At the Democratic National Convention in Denver, Colorado between August 25 – August 28, Clinton was nominated as the Presidential Nominee while Joe Biden was nominated as the Vice Presidential Nominee.
After Clinton had changed her vice presidential candidate, she began repairing the damage that had been done. Throughout September Clinton's numbers began to rise again While Bush, capitalizing on his advantage with voters on moral issues further strengthened his base.
In the first presidential debate at the University of Mississippi on September 26, 2008, Bush capitalized on his experience as Vice President, and won the debate. After a strong performance in the final two debates (October 7 at the Belmont University and October 15 at the Hofstra University) and the vice presidential debate (October 2 at the Washington University in St. Louis) by the Bush/Powell ticket, the race was by most analysts decided, with Bush at 51% and Clinton at 46%.
Presidential and vice-presidential debates
Edit
Four debates were announced by the Commission on Presidential Debates:
September 26: The first presidential debate took place at the University of Mississippi. The central issues debated were foreign policy and national security. The debate was formatted into nine nine-minute segments, and the moderator (Jim Lehrer) introduced the topics.
October 2: The vice-presidential debate was hosted at Washington University in St. Louis, and was moderated by Gwen Ifill of PBS.
October 7: The second presidential debate took place at Belmont University. It was a town meeting format debate moderated by NBC News anchor Tom Brokaw, and addressed issues raised by members of the audience, particularly the economy.
October 15: The third and final presidential debate was hosted at Hofstra University. It focused on domestic and economic policy. Like the first presidential debate, it was formatted into a number of segments, with moderator Bob Schieffer introducing the topics.
Another debate was sponsored by the Columbia University political union and took place there on October 19. All candidates who could theoretically win the 270 electoral votes needed to win the election were invited, and Ralph Nader, Cynthia McKinney, and Chuck Baldwin agreed to attend. Amy Goodman, principal host of Democracy Now!, moderated. It was broadcast on cable by C-SPAN and on the Internet by Break-the-Matrix.
The election
Edit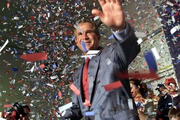 November 4, 2008 was Election Day in 49 states, and the District of Columbia; and the last of 21 consecutive election days in Oregon, which abolished the voting booth in 1998. The majority of states allowed early voting with all states allowing some form of absentee voting. Voters cast votes for listed presidential candidates but were actually selecting their state's slate of Electoral College members.
Vice President Bush and Secretary of State Powell held a joint rally in Dallas, Texas, while Clinton and Biden held a rally in New York City. With the exception of Arkansas where the Clintons were popular, Bush carried the Southern states by comfortable margins and also secured a win in Indiana, Bush won Ohio and Pennsylvania and all of the great plains and western states. Clinton balanced Bush by sweeping the Northeastern United States (with the sole exception of New Hampshire, which Bush won with a very narrow margin), most of the Upper Midwest, and all of the Pacific Coast states of Washington, Oregon, and California, and carried Hawaii, as well.
However, a Clinton victory quickly became improbable as Bush amounted early wins in the critical swing states of Ohio and Pennsylvania by 9:20 PM, along with the southern and mid-western states. All American networks called the election in favor of Bush at 11:00 PM Eastern Standard Time as the polls closed on the West Coast, with the Electoral College totals being updated to 291 for Bush and 205 for Clinton (270 are needed to win). Clinton gave a concession speech about half an hour later. President-elect Bush appeared at midnight Eastern time, November 5, in Dallas to deliver his acceptance speech.
The Bush/Powell ticket received 305 electoral votes to Clinton's 233. Bush's victory was credited mostly on the Edwards scandal and much stronger support from African American and evangelical voters. Bush carried approximately 41% of the African-American vote which was the largest amount gained by a Republican since Dwight Eisenhower and 85% of the evangelical vote which was the highest ever.
Grand total
Edit
Presidential candidate
Party
Home state
Popular vote
Electoral
vote
Running mate
Running mate's
home state
Count
Pct
George W. Bush
Republican
Texas
63,353,091
53.2%
305
Colin Powell
New York
Hillary Clinton
Democratic
New York
54,045,547
45.7%
233
Joe Biden
Delaware
Ralph Nader
—
Connecticut
662,066
0.56%
0
Matt Gonzalez
California
Bob Barr
Libertarian
Georgia
118,226
0.1%
0
Wayne Allyn Root
Nevada
Chuck Baldwin
Constitution
Florida
35,466
0.03%
0
Darrell Castle
Tennessee
Cynthia McKinney
Green
California
11,822
0.01%
0
Rosa Clemente
North Carolina
Total
118,226,218
100%
538
 
Needed to win
270
 
Results by state
Edit
| # | State | Winner | Delegates |
| --- | --- | --- | --- |
| 1 | Washington | Clinton / Biden | 11 |
| 2 | Oregon | Clinton / Biden | 7 |
| 3 | California | Clinton / Biden | 55 |
| 4 | Arizona | Bush / Powell | 8 |
| 5 | Nevada | Bush/ Powell | 5 |
| 6 | New Mexico | Bush/ Powell | 5 |
| 7 | Colorado | Bush / Powell | 8 |
| 8 | Utah | Bush / Powell | 5 |
| 9 | Idaho | Bush / Powell | 4 |
| 10 | Montana | Clinton / Biden | 3 |
| 11 | Wyoming | Bush / Powell | 3 |
| 12 | North Dakota | Bush / Powell | 3 |
| 13 | South Dakota | Bush / Powell | 3 |
| 14 | Nebraska | Bush / Powell | 4 |
| 15 | Kansas | Bush / Powell | 6 |
| 16 | Oklahoma | Bush / Powell | 7 |
| 17 | Texas | Bush / Powell | 34 |
| 18 | Louisiana | Bush / Powell | 9 |
| 19 | Arkansas | Clinton / Biden | 6 |
| 20 | Mississippi | Bush / Powell | 6 |
| 21 | Alabama | Bush / Powell | 9 |
| 22 | Georgia | Bush / Powell | 15 |
| 23 | Florida | Bush / Powell | 27 |
| 24 | South Carolina | Bush / Powell | 8 |
| 25 | North Carolina | Bush / Powell | 15 |
| 26 | Virginia | Bush / Powell | 13 |
| 27 | Tennessee | Bush / Powell | 11 |
| 28 | Kentucky | Bush / Powell | 8 |
| 29 | West Virginia | Bush / Powell | 5 |
| 30 | Ohio | Bush / Powell | 20 |
| 31 | Indiana | Bush / Powell | 11 |
| 32 | Illinois | Clinton / Biden | 21 |
| 33 | Michigan | Clinton / Biden | 18 |
| 34 | Wisconsin | Clinton / Biden | 10 |
| 35 | Minnesota | Clinton / Biden | 10 |
| 36 | Iowa | Clinton / Biden | 7 |
| 37 | Maine | Clinton / Biden | 4 |
| 38 | Vermont | Clinton / Biden | 3 |
| 39 | New Hampshire | Bush / Powell | 4 |
| 40 | Massachusetts | Clinton / Biden | 12 |
| 41 | Rhode Island | Clinton / Biden | 4 |
| 42 | Connecticut | Clinton / Biden | 7 |
| 43 | New York | Clinton / Biden | 31 |
| 44 | Pennsylvania | Bush / Powell | 21 |
| 45 | New Jersey | Clinton / Biden | 15 |
| 46 | Delaware | Clinton / Biden | 3 |
| 47 | Maryland | Clinton / Biden | 10 |
| 48 | Missouri | Clinton/ Biden | 11 |
| 49 | Alaska | Bush / Powell | 3 |
| 50 | Hawaii | Clinton / Biden | 4 |
| 51 | Washington D.C. | Clinton / Biden | 3 |

United States presidential elections

2000 · 2004 · 2008 · 2012