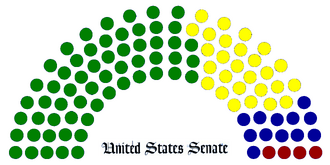 List of current members of the United States Senate
The following page is under construction.

Please do not edit or alter this article in any way while this template is active. All unauthorized edits may be reverted on the admin's discretion. Propose any changes to the talk page.
Senator
State
Party
First elected
Seat Up
Mark Begich
Alaska
Independent
2008
2014
Ione Christensen
Alaska
Democrat
2008
2014
Jim Bunning
Appalachia
Republican
1998
2010
Robert Byrd
Appalachia
Democrat
1986
2010
Jeff Bingaman
Arizona
Independent
1983
2014
Pete Domenici
Arizona
Independent
1973
2014
Aztlan
Independent
2008
2014
Aztlan
2008
2014
Hubert Ingraham
Bahamas
Independent
2009
2014
Alvin Smith
Bahamas
Independent
2009
2014
Alejandro González Alcocer
Baja California
Independent
2008
2014
Harry Reid
Baja California
Independent
1986
2014
Barbara Boxer
California
Democrat
1986
2010
Dianne Feinstein
California
Independent
1986
2010
Orrin Hatch
Deseret
Libertarian
2000
2012
Paul Van Dam
Deseret
Libertarian
2000
2012
Thad Cochran
Dixie
Libertarian
1998
2010
Max Cleland
Dixie
Independent
2002
2016
Betty Castor
Florida
Democrat
1992
2006
Bill Nelson
Florida
Independent
1992
2006
Al Franken
Illinois
Democrat
2008
2014
Richard Durbin
Illinois
Independent
1997
2014
Ted Kennedy
New England
Democrat
1996
2014
Patrick Leahy
New England
Independent
2004
2010
Daniel Inouye
Hawaii
Independent
2008
2014
Daniel Kahikina Akaka
Hawaii
Independent
2008
2014
Richard Lugar
Ohio
Independent
1995
2012
Carl Levinr
Michigan
Independent
2002
2014
Chuck Grassley
Iowa
Republican
1992
2006

Jim Bunning
Independent: 59 Libertarian: 27 Democrat: 12 Republican: 4

Majority Leader:Richard Lugar (I)
Majority Whip: Richard Durbin (I)
Minority Leader: Orin Hatch (L)
Minority Whip: Arlen Specter (L)
President pro tempore: Robert Byrd
Ad blocker interference detected!
Wikia is a free-to-use site that makes money from advertising. We have a modified experience for viewers using ad blockers

Wikia is not accessible if you've made further modifications. Remove the custom ad blocker rule(s) and the page will load as expected.