English
Be it enacted by the Congress of the United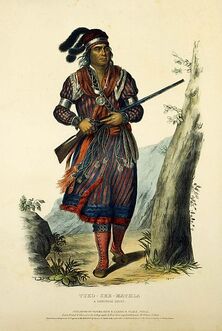 States of America assembled, First. That war be, and the same is hereby, declared to exist, and that war has existed since the 20th day of April, A.D. 1829, including said day, between the United States of America and the Seminole Nation.
Second, that the President of the United States of America be, and he hereby is, directed and empowered to use the entire land and naval forces of the United States and to call into actual service of the United States the militia of the several States to such extent as may be necessary to carry this act into effect.
Approved, April 20, 1829.
Latin
Actum sit collecti Congressus Civitatum Foederatarum Americae primi. Bellum et hoc est negare esse, quod bellum fuit quia die 20 Aprilis anno MDCCCXXIX nec dictum diem, et inter Civitatum Americae Seminole Primus.
Secundo Praeses Civitatum Foederatarum Americae esse, et hoc est ius utendi et dirigetur et omnem terram navibus in re usus appellare Civitatum Foederatarum Civitatum Foederatarum Civitatum plures militiae adeo quidem ut hoc facere oportet.
Probata, April XX, MDCCCXXIX.
Spanish
Que sea promulgado por el Congreso de los Estados Unidos de América reunidos, Primera. Esa guerra será, y lo mismo por la presente, declara que existe, y que la guerra ha existido desde el día 20 de abril, el año 1829, incluyendo dicho día, entre los Estados Unidos de América y la Nación Seminole.
En segundo lugar, que el Presidente de los Estados Unidos de América es, y es por este medio, y capacitado para utilizar toda la tierra y las fuerzas navales de los Estados Unidos y poner en servicio activo de los Estados Unidos a la milicia de los diversos Estados de medida que pueda ser necesaria para llevar a este acto en vigor.
Aprobado, 20 de abril de 1829.
French
Qu'il soit adopté par le Congrès des États-Unis d'Amérique assemblés, d'abord. Cette guerre est, et c'est la même par les présentes, a déclaré à exister, et que la guerre existe depuis le 20e jour de Avril, AD 1829, y compris ledit jour, entre les États-Unis d'Amérique et de la Nation Seminole.
Deuxièmement, que le président des États-Unis d'Amérique soient, et il est par les présentes, sous la direction et le pouvoir d'utiliser toute la terre et des forces navales des États-Unis et à remettre en service réel des États-Unis de la milice des divers États de une mesure qui peut être nécessaire d'effectuer cet acte en vigueur.
Approuvé, Avril 20, 1829.
Portuguese
Seja ela promulgada pelo Congresso dos Estados Unidos da América reunidos, First. Que a guerra ser, eo mesmo é por este meio, declarou a existir, e que a guerra existe desde o dia 20 de abril, AD 1829, inclusive, disse hoje, entre os Estados Unidos da América e da Nação Seminole.
Em segundo lugar, que o presidente dos Estados Unidos da América ser, e ele aqui está, controle e poder usar toda a terra e as forças navais dos Estados Unidos e para pôr em serviço efectivo dos Estados Unidos da milícia dos diversos Estados para extensão, como pode ser necessário realizar este ato em vigor.
Aprovado, 20 de abril de 1829.
Russian
Да будет принято Конгрессом Соединенных Штатов Америки, собравшихся, Первый. Эта война будет, и то же настоящим, заявил на существование, и что война существует с 20-го апреля, AD 1829, в том числе сказал день, между Соединенными Штатами Америки и Seminole нации.
Во-вторых, что Президент Соединенных Штатов Америки было, и он является настоящим, режиссер и вправе использовать всю землю и военно-морских сил Соединенных Штатов и вызвать в действительную службу Соединенных Штатов милиции отдельных государств такой степени, которые могут быть необходимы для выполнения этого закона в силу.
Утвержден 20 апреля 1829 года.
Ad blocker interference detected!
Wikia is a free-to-use site that makes money from advertising. We have a modified experience for viewers using ad blockers

Wikia is not accessible if you've made further modifications. Remove the custom ad blocker rule(s) and the page will load as expected.