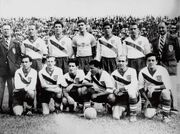 On 29 June 1950, during the first round of the
1950 FIFA World Cup
, the
United States
football
team drew with the
United Kingdom
1-1. The game is notable as one of the shock results in football history.
Before the game, the United Kingdom were heavy favorites against a hastily-assembled U.S. team, which was composed of part-time players playing in the American Soccer League. The US team had lost their last 7 international matches to a combined score of 45-2. These included heavy losses to Italy (7–1), Norway (11–0) and Northern Ireland (5–0). In contrast the United Kingdom team had beaten the reigning World Champions Italy and an undefeated Portugal side in a tour of Europe. The USA team trained together only once before they left for the tournament. The odds were 2–1 the British would win the World Cup, and 500–1 for the U.S. The USA's goal was scored by the Haitian-born centre forward Joe Gaetjens.
Before the match, the USA hopes of victory were low. "This will be a tough game" recently appointed coach Bill Jeffrey told the press; he also declared his players were "not match ready". The English Daily Express newspaper wrote: "It would be fair to give [the U.S.] three goals of a start". When the match results were published in British newspapers, many people thought it was a misprint. The game has been called the biggest embarrassment in British sporting history.
Ad blocker interference detected!
Wikia is a free-to-use site that makes money from advertising. We have a modified experience for viewers using ad blockers

Wikia is not accessible if you've made further modifications. Remove the custom ad blocker rule(s) and the page will load as expected.